The FOUR BASIC Trailer Questions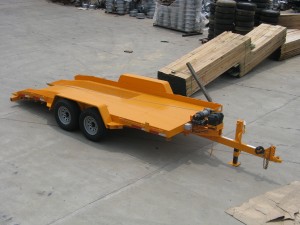 In order for a salesperson to help you select the right Kaufman trailer, there are four essential pieces of information you need to provide:
1)  What are you hauling? The answer to this question lets the salesperson know which type of trailer to look at first: car hauler, equipment, or landscape.  Most trailers are designed to do a specific job, and while some may seem multi-purpose, this is not always the case.  There are certain types of equipment that should not be loaded onto a car trailer, and some vehicles may be too long to fit on an equipment trailer.  This is due to the ramp system each trailer has.  A heavy skid loader may bend the slide-in ramps used on a car hauler, while the equipment style stand-up ramps will not allow a long vehicle to extend past the back of the equipment trailer.
2)  How much does it weigh?  Many of our smaller fender trailers are available with five different axle sizes (capacities).  In order for the salesperson to recommend the correct axle size, they must know the approximate weight of what the customer wants to haul.  A trailer with a 9,990 GVWR is only rated to haul 7,200 lbs.  This is because the trailer itself is included in the Gross Vehicle Weight Rating.  If your machine weighs 9,500 lbs. then it would be necessary to have a trailer rated for 12,000 lbs. GVWR.  This question is also imperative to answer when shopping for a large air brake trailer.
3)  What type of pull?  Gooseneck or tag-a-long?  This question also directs the salesperson to the correct trailer model to discuss with the customer.  Almost all of our trailers may be built with a gooseneck connection if that is what the customer prefers.
4)  What type of truck?  Some trucks are simply under-sized to do a certain job, and some tow vehicles are simply not compatible with every type of trailer.
In summary, the answers to these four basic questions are foundational to every sales consultation.  Some callers are already familiar with these concepts, while others may be new to owning a trailer.  Do not be embarrassed if you are not an expert in trailer terminology.  Kaufman Trailers has a courteous sales staff who is happy to answer your questions.
Follow us on Twitter to hear more of our trailer advice!