Trailers for Sale in Trailers for Sale in Alabama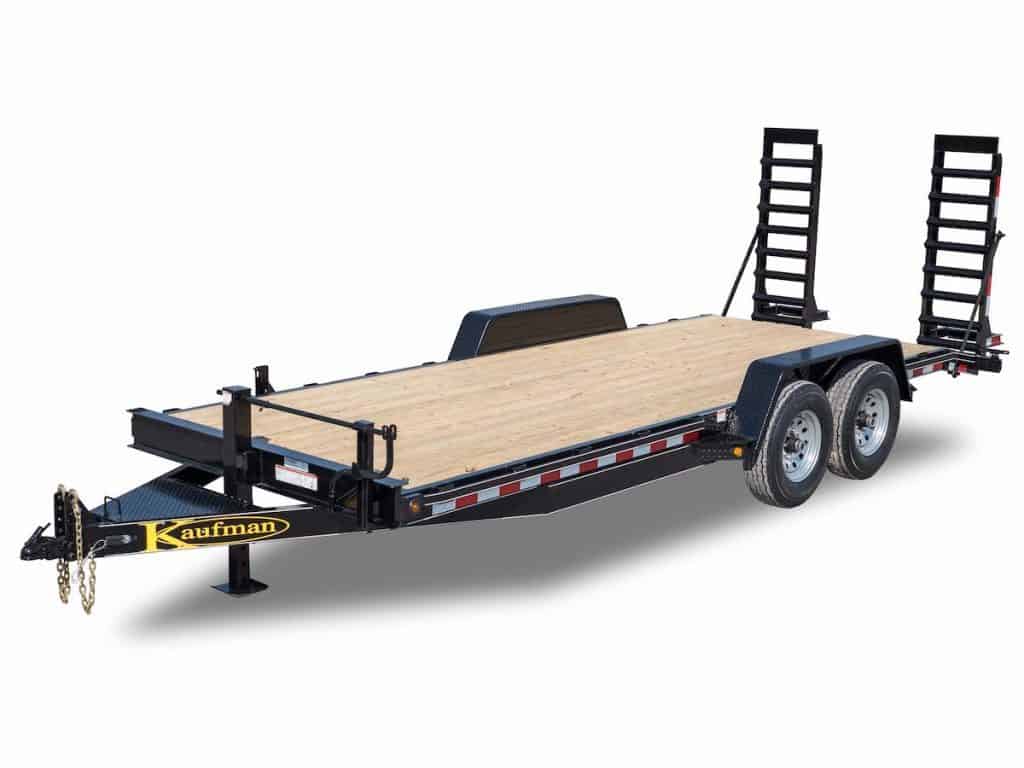 In 2022, Kaufman Trailers proudly marked 35 years of excellence in manufacturing and delivering top-notch open trailers. With our roots now firmly planted in Alabama, we have been crafting trailers since 2006, providing the community with robust and enduring solutions for all their hauling needs. 
From light-duty utility trailers to heavy-haul detachable gooseneck trailers and car haulers, our diverse range ensures you'll discover the perfect trailer for your hauling needs. We are committed to offering you quality at a price that fits your budget, making Kaufman Trailers your trusted choice in Alabama.
Finding Your Perfect Trailer
At our Alabama location, we take immense pride in our expansive range of open trailers, meticulously designed to cater to various styles and product segments. Our skilled sales representatives are always at your service, guiding you through the selection process to find the perfect trailer for any task you have at hand.
With our expertise and dedication, we ensure you get the ideal trailer that matches your requirements, making us the go-to destination for high-quality trailers in Alabama.
Ordering Your Open Trailer in Alabama
At Kaufman Trailers, we are committed to providing high-performing trailers while keeping costs low, without compromising on quality, workmanship, and durability. As the trailer manufacturer, we steer clear of dealer markups, ensuring you get the best value for your money. When you choose Kaufman, you order and buy directly, eliminating any unnecessary dealer middleman costs. Experience a transparent pricing system and a streamlined ordering process that makes getting your perfect trailer a breeze.
For our Alabama customers, we offer a seamless experience with convenient options. While some models are manufactured in Alabama, not all may be available here. To find out if your desired model is in stock, reach out to our knowledgeable sales representatives at 866-455-7444. Rest assured, you'll receive the utmost support in selecting the right trailer for your needs, and if needed, we can arrange for easy delivery to your location.
Detachable Gooseneck Trailers
Our detachable gooseneck trailers are engineered to perfection, boasting an impressive capacity of up to 55 tons. Crafted with precision at our state-of-the-art Heavy Haul plant in South Carolina, these trailers are built to withstand the most demanding hauling tasks with ease.
Rest assured, when you choose Kaufman Trailers in Alabama, you're selecting a heavy-duty solution that goes above and beyond in performance and reliability. Experience the confidence that comes with our trusted heavy-duty gooseneck trailers, tailored to meet Alabama's diverse hauling needs.
Car Trailers
At Kaufman Trailers in Alabama, we pride ourselves on offering a diverse product range that includes car trailers capable of hauling one to six vehicles at a time. Whether you need to transport a single car or multiple vehicles, our car haulers are designed to exceed expectations.
With a perfect blend of lightweight design and exceptional durability, our car trailers are built to withstand the test of time, ensuring you have a reliable and long-lasting solution for all your car hauling needs.
Equipment Trailers
Our equipment trailers are trusted by contractors and construction companies alike to handle the toughest hauling tasks. Whether you need to transport skid steers, mini excavators, trenchers, or other heavy machinery, our equipment trailers are engineered for unrivaled durability and reliability.
At Kaufman Trailers in Alabama, we take pride in providing you with the utmost confidence in your equipment hauling needs, ensuring your projects run smoothly and efficiently.
Gooseneck Trailers
Whether you're looking for deckover, flatbed style, car hauler, or fender style trailers with equipment tilt or fixed bed featuring swing-up ramps, we have it all.
Our extensive line of gooseneck trailers encompasses six different styles and weight ranges, ensuring you can find the perfect trailer to meet your unique hauling requirements. At Kaufman Trailers in Alabama, we take pride in offering you a diverse range of top-quality gooseneck trailers to tackle any hauling task with ease and confidence.
Flatbed Trailers
Discover the superior line of deckover flatbed trailers at Kaufman Trailers in Alabama, providing you with unmatched versatility for all your cargo hauling needs.
Our state-of-the-art facility manufactures six distinct types of flatbed trailers, each designed to offer exceptional performance and durability. With a broad range of Gross Vehicle Weight Ratings (GVWR) from 14,000 to 62,000, you can select the perfect trailer to suit your needs.
Our flatbed trailers are equipped with hydraulically lifted and spring-assisted ramps, ensuring effortless loading and unloading. Particularly popular among paving contractors are our 8ft. knife-edge paver ramps, easily raised and lowered with a simple push of a button.
At Kaufman Trailers in Alabama, we take pride in providing top-tier deckover flatbed trailers that deliver unparalleled convenience and efficiency for your hauling projects.
Contact Kaufman Trailers in Alabama Today
For Alabama residents in search of a durable and long-lasting open trailer with all the essential features, look no further than Kaufman Trailers. Our extensive selection of open trailers is designed to meet your hauling needs and exceed expectations.
Whether you're in Birmingham, Montgomery, Mobile, or Huntsville, we deliver open trailers to various locations across the state of Alabama.
Don't hesitate to reach out to our knowledgeable sales representatives by calling 866-455-7444 today, and let us help you find the perfect open trailer for your upcoming haul.