About Log Trailers
Kaufman Trailers offers Log Trailers in all three industry standard configurations: Straight Frame, Plantation, and Flat Top with Sliding Bolsters. Our attention to detail sets us apart from the rest of the industry. All three styles of trailers have fully fabricated main frame beams that utilize 130 KSI heat treated flanges with 80 KSI webbing. Full depth, fabricated crossmembers, continuous formed bolster caps, as well as 36″ bolster to standard gusseting are just a few examples of the extra attention to detail and engineering that comprise our commitment to building a superior product.
The standards are high yield 5″x5″x1/4″ riding on 4″x10″ bolsters with full width formed caps to strengthen this part of the trailer that is often damaged by the abuse of loading logs.
A 4-spring Hutchens H-9700 suspension is standard on all three models. Available optional suspensions are Watson single point or Ridewell air ride. A US made Sealco wiring harness with all LED lights ensures trouble-free lighting for the life of the trailer.
Log Trailers For Sale
Straight Frame Log Trailers – Our straight frame trailers are built with all fabricated 24″ main frame beams and full depth crossmembers. We build this trailer with both overslung and underslung 4-spring suspensions. A 6″ drop for unloading tree length logs is the most popular configuration but we also build this trailer in a flat top for customized bolster spacing.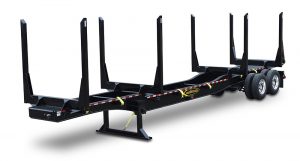 Plantation Log Trailers – A popular model for hauling both double bunk and tree length logs. This trailer has 21″ fabricated main frame beams with a 24″ drop behind the fabricated gooseneck. This allows loading of plantation "thinnings" with full length trees loaded on top.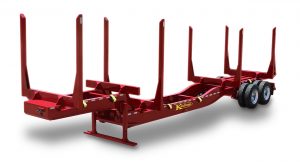 Sliding Bolster Log Trailers – This versatile style log trailer can be adjusted to haul multiple lengths of hardwood logs. A heavy duty square tubing headache rack is standard. We have engineered an easy to use, quick adjustment system for changing the spacing of the bolsters. Top quality workmanship and engineering, with the best price in the industry are sure to make this your next adjustable bolster trailer!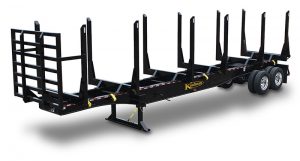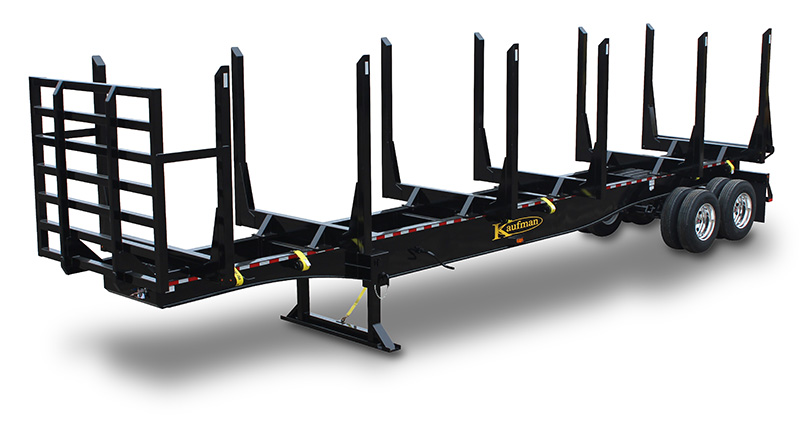 See all specs and details in the individual model pages or click on these links to see our advertised specials!
The Truck Paper
Contact Us Today For Log Trailers
Our sales representatives can help you select the perfect utility trailer for your hauling needs. Our trailers have no dealer mark-up, and can be delivered factory-direct anywhere in the continental US. Call 866-455-7444 today!