90,000 GVWR 42 ft. Log Trailer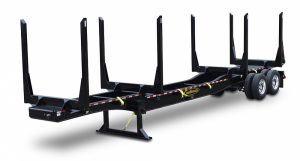 $25,990.00 Plus FET

Kaufman Trailers Standard four bolster Log Trailer is built with a 24" deep, high tensile, fully fabricated main beams frame and full depth cross-members at each bolster. Our attention to detail and quality materials are the best in the industry! Frame flanges are heat treated 130 KSI with 80 KSI high tensile webbing. Standard suspension is a heavy duty, underslung, 4-spring Hutchens H-9700. A popular feature of this trailer is the low ride height at the rear. With the underslung suspension, this trailer provides much more stability and eliminates the feared sway when rounding turns and rocking through the woods therefore ensuring you years of service. We also offer the same suspension in the traditional overslung mode. Two popular optional suspensions are also available for a nominal up charge. These are a Watson single point or Ridewell air ride suspension.

Our straight frame style log trailers are a best seller providing excellent value at $25,990 + FET. Call Kaufman Trailers today and ask for Log Trailer Sales to speak to one of our knowledgeable sales reps!
Optional color upcharge for any color other than standard black. Call for details.
CALL CUSTOMER SERVICE WITH QUESTIONS: 866-455-7444
Specifications
| | |
| --- | --- |
| G.V.W.R. | 90,000 lbs. |
| Electrical | DOT approved lighting, US made sealed wiring harness, LED lights |
| Frame | (2) - 24" nominal Main-frame full length beams, fabricated with 130 KSI high tensile flanges and 80 KSI high tensile webs. |
| Dovetail | N/A |
| Upper Deck | N/A |
| Side Rail | 5" x 5" x 96" tall Standards with 24" bolster to standard gusset |
| Tongue | N/A |
| Tires | 11R24.5 |
| Floors | 4" x 10" Bolsters with continuous formed cap plate on log bearing surface for added durability |
| Coupler | SAE 2" Kingpin (20" Kingpin setting) |
| Safety Chains | N/A |
| Ramps | N/A |
| Tie Downs | (6) - 4" winches with 30'-0" straps |
| | |
| --- | --- |
| Deck Length | 42'-0" Main-frame plus 3'-0" heavy duty bumper and grapple bar assembly |
| Deck Height | N/A |
| Deck Width | 102 in. |
| Fenders | N/A |
| Lower Deck | N/A |
| Brakes | All wheel 16.5" x 7" air brakes, automatic slack adjusters, and 2S/1M ABS, Spring brakes on all axles |
| Tailgate | N/A |
| Wheels | 10 hole steel disc / hub piloted |
| Jack | 6" x 4" tubing |
| Axles | 2-25,000 lb. axles (5" round, 5/8" wall thickness) |
| Suspension | Hutchens H-9700 Heavy duty suspension |
| Toolbox | (2) - piano hinge lid toolboxes over fifth wheel |
| Finish | Two part polyurethane paint, over an epoxy primer |