Trailers for Sale in Arizona
If you are shopping for an open trailer in Arizona, we're here to help you get exactly what you need. With over 35 years of manufacturing and distributing quality Kaufman Trailers, we craft durable, long-lasting trailers for all types of hauling. From light-duty utility trailers to heavy-haul detachable gooseneck trailers and car haulers, we can guarantee we have exactly what you need.
Choosing an Open Trailer
We manufacture a comprehensive line of open trailers in various styles and product lines.
If you need help making a selection, our representatives are available to help you choose the right trailer for the job at hand.
Ordering Your Open Trailer in Arizona
At Kaufman Trailers, we work hard to keep costs low without sacrificing quality workmanship. Since we are the manufacturer, we never add on dealer markups. Once you choose your trailer, you'll see transparent pricing and a simple, streamlined ordering process.  
Most of the Kaufman Trailers sold to customers in the state of Arizona are built in our Nebraska plant. 
You can pick up your trailer in person at our Nebraska plant, or we can ship your trailer "shared freight" with other trailers on the same load to your location in Arizona, which keeps delivery costs low. Call our sales department to order and for a delivery cost quote.
Detachable Gooseneck Trailers
For heavy haul equipment, we offer Detachable Gooseneck trailers up to a 55-ton capacity. We deliver our detachable gooseneck trailer line nationwide.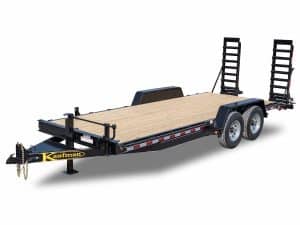 Equipment Trailers
We offer a full line of equipment trailers built at our Nebraska plant, that can be picked up or shipped on our shared freight loads to Arizona. Contractors and construction companies have come to rely on Kaufman Trailers for durable equipment trailers to haul skid steers, mini excavators, trenchers, and other machinery.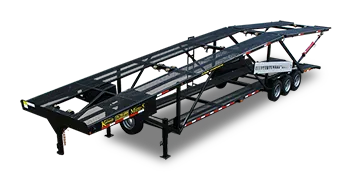 Car Trailers
We specialize in car trailers. Our large variety of car trailers is available in models that haul one to six vehicles. No matter which option you select, our car haulers are lightweight and durable.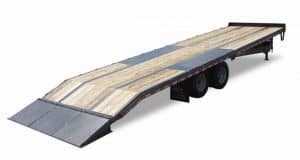 Flatbed Trailers
We manufacture six specific types of flatbed trailers for sale in Arizona with GVWRs ranging from 14,000 to 62,000. We are very competitive in our Air Brake Pintle Flatbeds. We offer this line with both spring-assisted and hydraulically lifted ramps. Our 8ft. knife edge hydraulically lifted paver ramps are popular with paving contractors since they can be raised and lowered with the push of a button.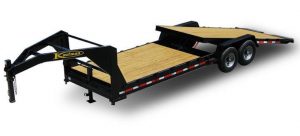 Gooseneck Trailers
Our gooseneck trailers are available in all sought-after configurations. This includes deck over, flatbed style, car hauler, or fender style in equipment tilt or fixed bed with swing-up ramps. Our gooseneck trailers offer various weight capacities and trailer floor options. 
Contact Kaufman Trailers in Arizona Today
If you are looking for a durable, long-lasting open trailer with the features you need, we can help. We deliver open trailers across Arizona, including Phoenix, Tucson, Mesa, Chandler, Scottsdale, Glendale, and Tempe. To order your new trailer or request assistance selecting the ideal trailer for your needs, please give our sales reps a call today at 866-455-7444.