Trailers for Sale in California
At Kaufman Trailers, we're here to help you get what you need when you're looking for open trailers in California. We have been manufacturing and distributing quality Kaufman Trailers for over 35 years. We produce long-lasting, durable trailers for all types of hauling tasks ranging from light-duty utility trailers to heavy-haul detachable gooseneck trailers and car haulers. We have a huge selection and are confident you'll find the trailer you need at an affordable price.
Choosing an Open Trailer
We manufacture a comprehensive line of open trailers in numerous styles and product segments.
If you're unsure about your options, our sales representatives are here to guide you and help you choose the right trailer for the job.
Ordering Your Open Trailer in California
At Kaufman Trailers, while we work hard to keep costs low, we don't sacrifice the quality workmanship and durability you're looking for. We don't add on dealer markups. You can feel confident that you are ordering and buying your trailer direct from us – the manufacturer. Once you choose your trailer, you'll see transparent pricing and a simple, streamlined ordering process.
You can pick up your trailers in North Carolina, South Carolina, or Nebraska. Most of the Kaufman Trailers sold to customers in California will be built in our Nebraska plant. However, not all models that we manufacture are produced in Nebraska, so please check with one of our sales reps to find the model you want.
You can decide to pick up your trailer at our Nebraska plant, or we can ship your trailer "shared freight" with other trailers on the same load to your California location. This keeps delivery costs low. Call our sales department for a delivery quote and to place your order.

Gooseneck Trailers
Our Detachable Gooseneck trailers boast a tremendous 55-ton capacity and are custom-made at our South Carolina Heavy Haul plant. With nationwide delivery, you can get the toughest heavy haul equipment straight to your doorstep in California with ease.
We offer traditional gooseneck trailers in various styles, including flatbeds and car haulers.
Car Trailers
From lightweight models built to haul one vehicle to rugged designs capable of carrying six vehicles, we have an option that fits your needs – and they're all made from ultra-durable materials.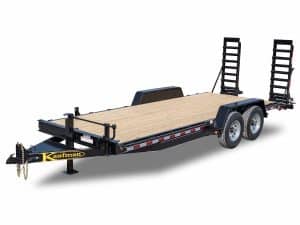 Equipment Trailers
Contractors and construction companies have come to rely on Kaufman Trailers for durable equipment trailers to haul skid steers, mini excavators, trenchers, and other machinery. Our full line of equipment trailers can be picked up or shipped to you on our shared freight loads.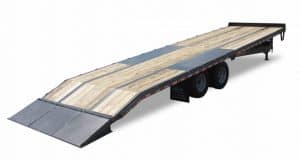 Flatbed Trailers
Kaufman offers six types of flatbed trailers with the deck over the tires. We manufacture six specific types of flatbed trailers with GVWRs ranging from 14,000 to 62,000. The Air Brake Pintle Flatbed trailers are one of our most popular models. For this type, choose between spring-assisted or hydraulically lifted ramps.
Contact Kaufman Trailers in California Today
If you are looking for a durable, long-lasting open trailer with the features you need, Kaufman Trailers is here to help. We deliver open trailers across California, including Los Angeles, San Diego, San Francisco, Fresno, Sacramento, and Long Beach areas. Talk to a sales representative today by calling 866-455-7444.