Trailers for Sale in Connecticut
Whether you are hauling logs and cars or need to transport landscaping equipment, Kaufman Trailers has a massive selection of durable, long-lasting open trailers in Connecticut. We have been designing, manufacturing, and distributing trailers nationwide for over 30 years and have a well-earned reputation for unmatched standards related to craftsmanship and workmanship. Our trailer inventory includes all types of open trailers from light-duty utility trailers to heavy haul gooseneck trailers and car haulers, so you can find the trailer you need at the price you can afford.
Choosing an Open Trailer
Kaufman Trailers manufactures a comprehensive product line of open trailers, with several options of styles and product segments available.
Our team can help you look at the options and help you choose the best trailer to match your work and budget.
Ordering Your Open Trailer in Connecticut
At Kaufman Trailers, we strive to provide an excellent value, keeping costs low without sacrificing quality. This includes how you can get your trailer. Right now, we offer two options on how to receive your open trailer.
Pick it up at our plant in either Lexington, North Carolina or Bennettsville, South Carolina – depending on where it is built.
Select to have it delivered. We ship out multiple trailers at the same time to minimize your freight costs while ensuring safe, efficient delivery.

Detachable Gooseneck Trailers
The detachable gooseneck trailer is used for transporting heavy farm equipment and forest machinery weighing up to 55 tons. These trailers provide a lower load and transport height for safe loading and unloading while the gooseneck ensures stability during transportation.
Dump Trailers
Our low profile dump trailers feature radial tires and heavy duty channel construction so you can experience a smooth ride and a long lifespan. Our Deluxe model includes multiple convenience features including a scissor lift and lifetime LED lights.

Car Trailers
When you need to move one or several vehicles, Kaufman Trailers specializes in car haulers. Whether you choose a single hauler or multiple car trailers, each model is lightweight while offering unparalleled security and safety to your vehicles.
Enclosed Trailers
Enclosed trailers are built using robust square and rectangular tube construction, so they are hardy and strong both inside and out. Choose from either single axle cargo trailers to 8.5-foot wide car haulers, every trailer is built for a smooth drive.
Equipment Trailers
Our complete line of equipment trailers are built heavy duty and have diamond plate fenders for durability and a great look. These are often used by contractors, construction companies, and other industries to move skid steers, trenchers, and other heavy duty machinery.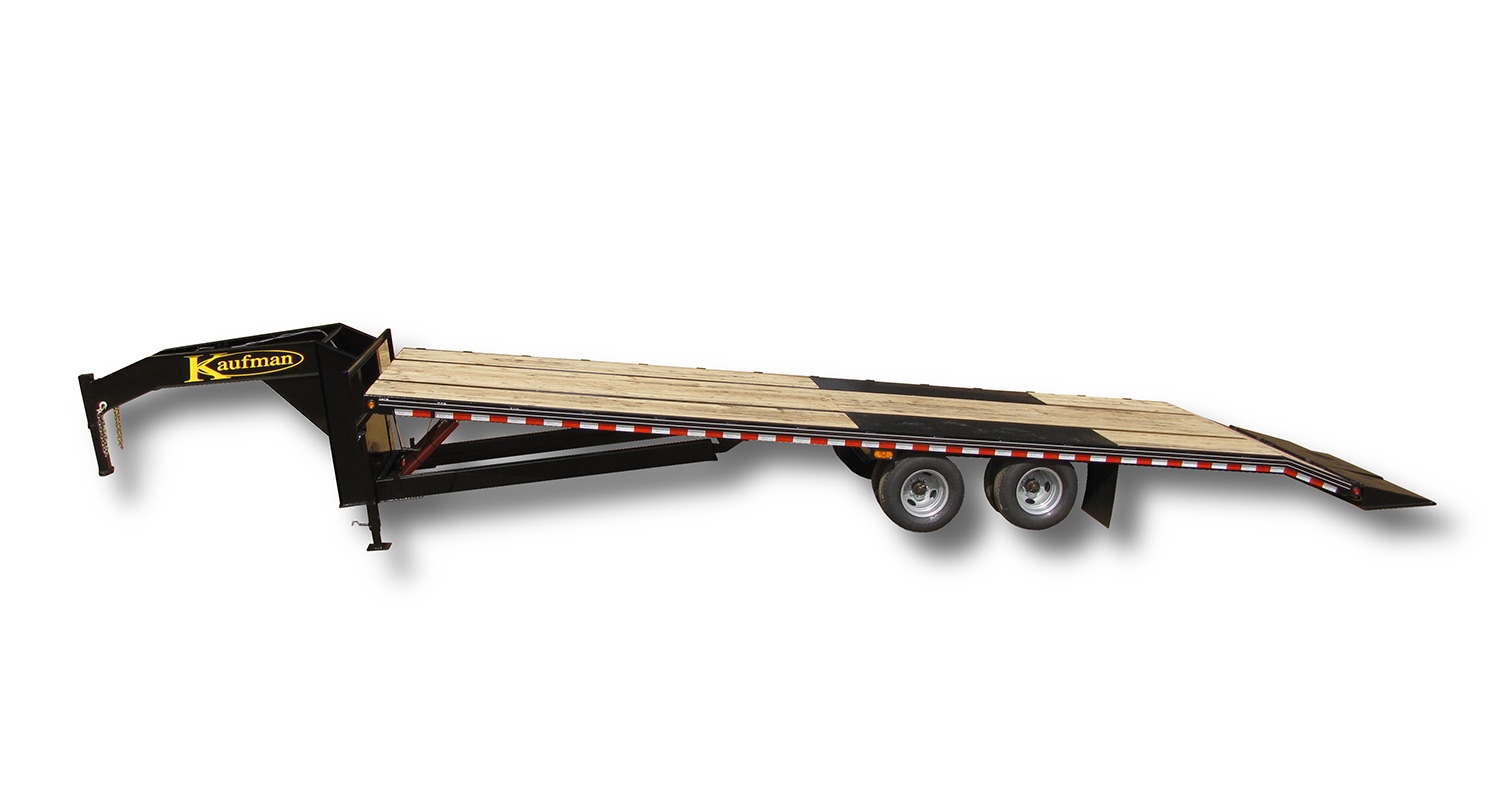 Flatbed Trailers
We have numerous styles of flatbed trailers available across six different types. Each option is free of fenders with a deck built over the tires while GVWRs range from 14,000 to 62,000.
Gooseneck Trailers
We have several sought after models of gooseneck trailers, including flatbed, car hauler, and equipment tilt. We also carry detachable gooseneck trailers used for transporting dozers and other machines weighing up to 55 tons.
Log Trailers
Get the log trailer you need, no matter which of the three industry standard configurations you prefer. Each one is constructed with fully fabricated mainframe beams and cross members, in addition to 36-inch bolster to standard gusseting. We pay close attention to detail to guarantee a safer transport of tons of logs and lumber.
Utility Trailers
Our utility trailers used for landscaping equipment are available as both single and tandem axle. You can quickly connect these trailers to either a car or a truck, making it quick and convenient to move items smoothly.
Contact Kaufman Trailers in Connecticut Today
If you are looking for a durable, long-lasting open trailer with the features you need, we can help. We serve all areas of Connecticut, including New Haven, Hartford, and Waterbury. Talk to a sales representative today by calling 866-455-7444 or filling out the form below to get started.