Trailers for Sale in Kansas
For over 30 years, families and businesses have turned to Kaufman Trailers to purchase reliable and durable trailers in Kansas. We manufacture trailers that are built for both light-duty and heavy-haul tasks. With our diverse variety, we promise to help you find a trailer you like at an affordable price.
Choosing an Open Trailer
If you aren't sure which trailer is best for your needs, our team is always happy to assist. Just give us a call at 866-455-7444.
Ordering Your Open Trailer in Kansas
When you buy directly from Kaufman Trailers, you are ordering and buying without a dealer middleman adding costs. We pride ourselves on keeping costs low without sacrificing the quality, workmanship, and durability you're looking for. Once you choose a trailer you'd like to purchase, you'll see transparent pricing and a simple, streamlined ordering process.
Most of the Kaufman Trailers sold to customers in the state of Kansas are built in our Nebraska plant.
You can choose to pick up your trailer at our Nebraska plant, or we can ship your trailer to your location in Kansas at a low delivery cost.
Detachable Gooseneck Trailers
When it comes to heavy haul jobs, we offer detachable gooseneck trailers with a 55-ton capacity. We deliver our detachable gooseneck trailer line nationwide.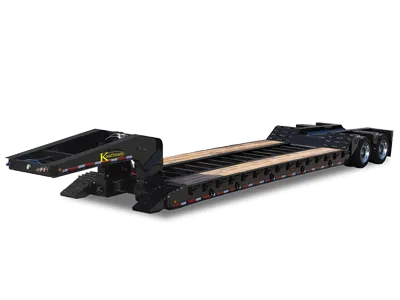 Equipment Trailers
Our Kansas equipment trailers provide a reliable and secure way to transport your heavy-duty machinery. Our frames are constructed from solid iron, making them sturdy enough for even the largest skid steers or tractors. To top it off, diamond plate fenders guarantee a streamlined journey – ideal for any large haul.
Car Trailers
We specialize in car trailers. Our large variety lets you choose from models that will haul one to six vehicles. No matter which option you select, our car haulers are lightweight and built to last.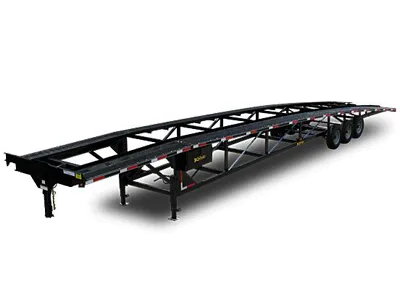 Flatbed Trailers
Kaufman offers a full line of deck over the tires Flatbed Trailers. We manufacture six specific types of flatbed trailers for sale in Kansas with GVWRs ranging from 14,000 up to 62,000. Kaufman Trailers is very competitive in our Air Brake Pintle Flatbeds. This line is available in both spring-assisted and hydraulically lifted ramps. Our 8ft. knife edge hydraulically lifted paver ramps are popular with paving contractors and are raised and lowered with the push of a button.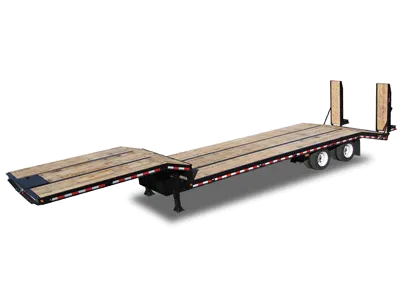 Gooseneck Trailers
Our gooseneck trailers are available in all sought-after configurations. This includes deckover, flatbed style, car hauler, or fender style in equipment tilt or fixed bed with swing up ramps.
Contact Kaufman Trailers in Kansas Today
If you are looking for a durable, long-lasting open trailer with the features you need, contact Kaufman Trailers. We deliver open trailers across Kansas, including Witchita, Overland Park, Topeka, Salina, Dodge City, and Garden City. Talk to a sales representative today by calling us at 866-455-7444.