Trailers for Sale in Louisiana
If you are in the market for open trailers in Louisiana, Kaufman Trailers has exactly what you need. For 35 years, our company has been manufacturing and distributing open trailers of all varieties, ranging from light-duty utility trailers to heavy haul detachable gooseneck trailers and car haulers. With our large selection and variety, we are confident that you'll find the trailer you need at an affordable price.
Choosing an Open Trailer
We offer a complete line of open trailers that are available in several styles and numerous product segments. Most of our product models are available in:
Basic
Standard
Deluxe – Our best selling category!
Our customer service representatives are here to review your choices and options so you can choose the right trailer. With several segments, you can get the best value by choosing the trailer that only offers the features you need.
Ordering Your Open Trailer in Louisiana
At Kaufman Trailers, we strive to keep costs low and our pricing transparent. You'll never see hidden fees, dealer markups, or other costs during our straightforward ordering process.
For our Louisiana customers, our pickup location serving your area is located in Nebraska. While most of our trailers are built here, there are some models that are only produced at our South Carolina location. Our customer service representative will work with you to find the right option at our nearest location if you plan on picking up your trailer in person.
If you choose to have your trailer delivered, we keep our delivery costs low by offering shared freight. We ship out trailers that are going to the same geographic region together in order to keep your delivery costs low.
Detachable Gooseneck Trailers
Our detachable gooseneck trailers are available up to 55 ton capacity and primarily used for heavy equipment. We only manufacture these at our South Carolina Heavy Haul plant and deliver them nationally.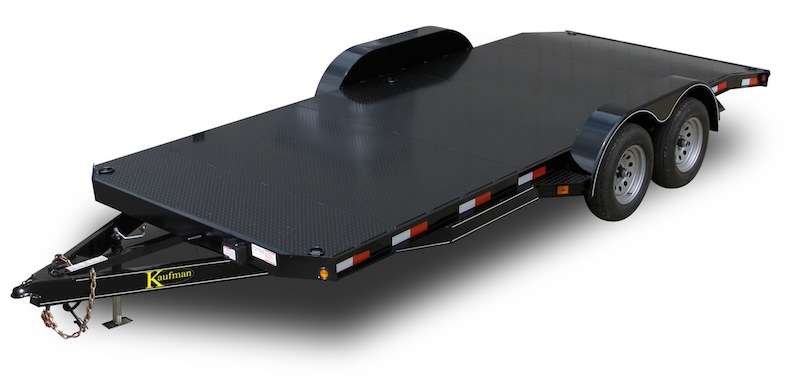 Car Trailers
When you need a lightweight, easy to transport car hauler, we have what you need. We specialize in car trailers that will haul one to six vehicles.
Equipment Trailers
Kaufman Trailers offers a comprehensive line of equipment trailers that are built at our Nebraska plant. Construction companies and contractors specifically rely on us for their equipment trailers used to haul skid steers and other machinery.
Flatbed Trailers
Flatbed trailers are designed with the deck over the tires. We have six specific types of flatbed trailers for sale in Louisiana with a gross vehicle weight rating (GVWR) ranging from 14,000 up to 62,000.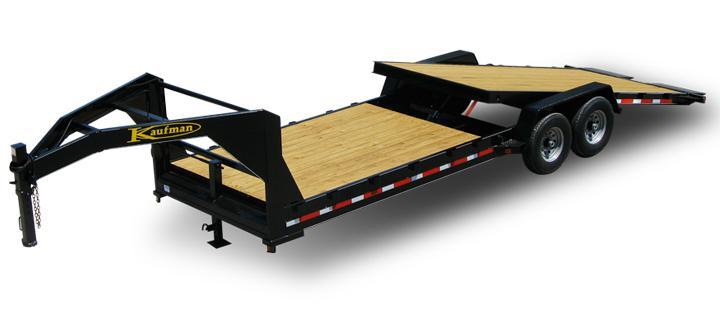 Gooseneck Trailers
We sell gooseneck trailers in all preferred designs, including deckover, flatbed style, car hauler or fender style. They are also available in equipment tilt or fixed bed with swing up ramps.
Contact Kaufman Trailers in Louisiana Today
If you are looking for a durable, long-lasting open trailer with the features you need, reach out to us today. We deliver open trailers across Louisiana, including New Orleans, Baton Rouge, Lafayette, Lake Charles, Shreveport, Alexandria, and Monroe. Talk to a sales representative today by calling 866-455-7444.