Trailers for Sale in Trailers for Sale in Maryland
Celebrating its 35th anniversary in 2022, Kaufman Trailers stands tall as a pioneer in producing and distributing high-quality open trailers.
Our Maryland facility has been at the forefront since 2006, crafting trailers that withstand the test of time for various hauling tasks. Whether it's light-duty utility trailers, heavy-haul detachable gooseneck trailers, or car haulers, we take pride in offering an extensive selection that caters to your unique needs.
At Kaufman Trailers, we are dedicated to providing you with durable solutions at affordable prices, ensuring you have a trailer you can rely on in Maryland's diverse terrain and landscapes.
Choosing a Trailer That's Right for You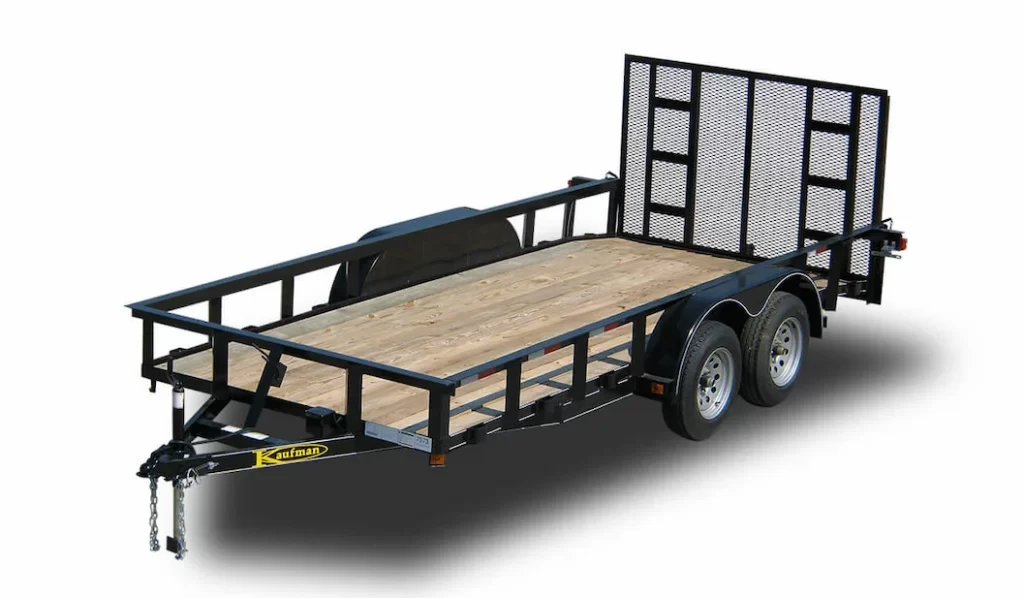 At our Maryland location, we specialize in manufacturing an extensive lineup of open trailers, thoughtfully crafted to suit diverse styles and product segments. Our team of sales representatives is committed to providing exceptional service, assisting you in choosing the most suitable trailer for your specific hauling and transporting needs.
Whether it's for work or play, we have the perfect trailer to tackle any job you have at hand. Trust us to deliver unparalleled quality and personalized attention at our Maryland location, your ultimate destination for premium open trailers.
Ordering Your Open Trailer in Maryland
At Kaufman Trailers, quality and affordability go hand in hand. We take pride in delivering exceptional trailers while ensuring costs remain low, giving you the best value possible. As the manufacturer, we bypass dealer markups, guaranteeing a straightforward and budget-friendly purchasing process. When you buy from us, you're getting the trailer you need without any extra dealer costs.
For our Maryland customers, we understand the importance of convenient options. While we have a manufacturing plant in the state, not all models are produced there. To check the availability of your desired trailer, get in touch with our dedicated sales representatives at 866-455-7444.
They will guide you through the selection process, ensuring you find the perfect trailer that suits your transporting requirements, from load capacity to weight distribution and more. Whether you choose to pick up your trailer from our Maryland facility or have it shipped with other freight, we've got you covered with an easy and cost-effective delivery solution.
Detachable Gooseneck Trailers
Our detachable gooseneck trailers are a testament to our commitment to quality and excellence, boasting an impressive capacity of up to 55 tons. Meticulously crafted at our cutting-edge Heavy Haul plant in South Carolina, these trailers are designed to tackle the toughest hauling tasks with ease.
At Kaufman Trailers in Maryland, you'll find heavy-duty gooseneck trailers that offer unmatched durability and performance. No matter the size of the job, our trailers are built to handle Maryland's diverse landscapes and hauling requirements, making them the go-to choice for your most demanding hauling needs.
Car Trailers
Our exceptional product range boasts a variety of car trailers, each designed to efficiently haul one to six vehicles at once. No matter your specific hauling requirements, our car haulers are thoughtfully constructed to be lightweight yet incredibly robust.
When you choose Kaufman Trailers in Maryland, you're opting for top-tier car trailers that combine durability and longevity, providing you with the confidence to transport your vehicles hassle-free and with ease.
Equipment Trailers
Count on Kaufman Trailers in Maryland for reliable solutions to transport skid steers, mini excavators, trenchers, and various other machinery with ease. Each equipment trailer is thoughtfully designed for exceptional durability and unwavering reliability, ensuring you can focus on your projects without worry.
At Kaufman Trailers in Maryland, we prioritize your satisfaction and offer equipment trailers you can trust for all your heavy hauling demands.
Gooseneck Trailers
We present a remarkable collection of gooseneck trailers in Maryland designed to cater to your specific hauling needs. Choose from a variety of configurations, including deckover, flatbed style, car hauler, and fender style trailers available in equipment tilt or fixed bed with swing-up ramps.
With our comprehensive line encompassing six different styles and weight ranges, finding the ideal gooseneck trailer for your projects becomes hassle-free. At Kaufman Trailers in Maryland, we prioritize your satisfaction and provide you with top-notch gooseneck trailers that deliver unmatched performance and reliability for all your hauling endeavors.
Flatbed Trailers
Offering a wide platform, our flatbed trailers provide the utmost flexibility for hauling cargo of all kinds in Maryland. We produce six distinct types of flatbed trailers with varying Gross Vehicle Weight Ratings (GVWR) ranging from 14,000 to 62,000, ensuring you find the perfect match for your hauling demands.
Equipped with hydraulically lifted and spring-assisted ramps, our flatbed trailers make loading and unloading a breeze. Paving contractors find our 8ft. knife-edge paver ramps particularly attractive, as they can be effortlessly raised and lowered with the simple push of a button.
At Kaufman Trailers in Maryland, we are dedicated to providing you with top-quality deckover flatbed trailers that offer unmatched convenience and reliability for all your cargo transportation needs.
Contact Kaufman Trailers in Maryland Today
At Kaufman Trailers, we offer a wide range of durable and feature-packed open trailers to meet your hauling demands. If you're in Baltimore, Frederick, Annapolis, or any other city in Maryland, we've got you covered.
Our open trailers are built to last and come with all the essential features you need.
Contact us today to speak with one of our sales representatives at 866-455-7444, and let us assist you in finding the ideal open trailer that is affordable, durable, and gets the job done right.