Trailers for Sale in Michigan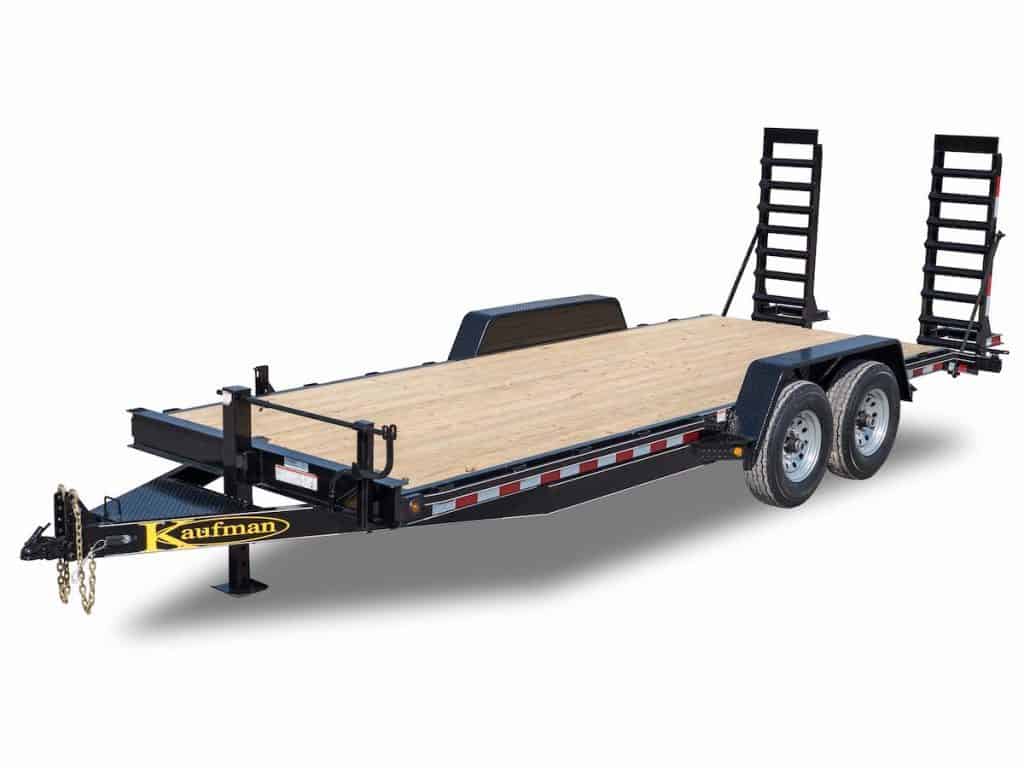 At Kaufman Trailers, we recognize the importance of delivering top-quality trailers that won't break the bank. Our commitment to affordability is unwavering, ensuring that you have access to a diverse selection of trailers that align with your budget. This dedication makes Kaufman Trailers your trusted choice for all your hauling needs in Michigan.
Finding the Perfect Trailer for You
Our expert sales team is fully committed to guiding you through each step of the process, ensuring you find the perfect trailer for your envisioned project. Whether you need a trailer for transporting cargo, equipment, or anything in between, our diverse selection is meticulously crafted to accommodate various styles and product categories. From versatile utility trailers to robust heavy-duty haulers, we provide tailor-made trailer solutions to meet your distinct needs.
As a direct trailer manufacturer, Kaufman Trailers eliminates middleman markups, ensuring that you receive the best possible value for your hard-earned money. When you opt for Kaufman, you deal directly with us, which means a transparent pricing system and a simplified ordering process that makes acquiring your ideal trailer a breeze.
Detachable Gooseneck Trailers
Every one of our detachable gooseneck trailers undergoes meticulous craftsmanship, executed with precision at our state-of-the-art Heavy Haul plant in South Carolina. We leave no stone unturned to ensure that these trailers are not only built to meet but also to surpass the demands posed by the most challenging hauling tasks. Their robust construction ensures they can handle even the most strenuous jobs with effortless ease.
Car Trailers
Our car trailers strike the perfect balance between lightweight design and exceptional durability, setting new benchmarks within the industry. These trailers are meticulously crafted to endure the test of time, providing you with a dependable, long-lasting solution for all your car hauling needs in Michigan. When you make Kaufman your choice, you're making an investment in unmatched reliability and performance.
Equipment Trailers 
Our equipment trailers stand as the top choice for contractors and construction firms dealing with the most challenging hauling tasks. Whether your mission involves the transportation of skid steers, mini excavators, trenchers, or any other heavy machinery, our equipment trailers are thoughtfully crafted to offer unparalleled durability and reliability.
Kaufman Trailers is unwaveringly committed to instilling the utmost confidence in your equipment hauling requirements. When you opt for our trailer supply company, you are choosing a dedicated partner committed to ensuring that your projects in Michigan proceed seamlessly and efficiently, regardless of their level of complexity.
Gooseneck Trailers 
Our comprehensive range of gooseneck trailers includes six styles and weight variations, giving you the flexibility to discover the ideal trailer that precisely caters to your unique hauling requirements in Michigan. At Kaufman Trailers, our commitment is to provide you with a diverse selection of top-quality gooseneck trailers in Michigan, ensuring you are fully prepared to tackle any hauling task with confidence and ease.
No matter what your specific trailer needs entail, rest assured, we've got the solution. Whether you are in search of deckover, flatbed, car hauler, or fender-style trailers, complete with equipment tilt or fixed beds featuring convenient swing-up ramps, our inventory boasts a wide array of options to meet your demands.
Flatbed Trailers Tailored
Within our cutting-edge manufacturing facility, we craft six distinct varieties of flatbed trailers, with each one undergoing meticulous design to ensure exceptional performance and enduring durability. Offering a comprehensive range of Gross Vehicle Weight Ratings (GVWR) spanning from 14,000 to 62,000 pounds, our selection provides you the liberty to handpick the ideal trailer that precisely aligns with your hauling requirements.
Our flatbed trailers in Michigan are equipped with hydraulically lifted and spring-assisted ramps, guaranteeing a seamless process for loading and unloading your cargo. These features, especially favored by paving contractors, include our 8-foot knife-edge paver ramps, easily raised and lowered with a simple push of a button, significantly enhancing job-site efficiency.
Shop Our Extensive Stock of Trailers in Michigan Today 
Shop our extensive stock of trailers in Michigan today and embark on a journey to find the ideal hauling solution for your needs. Whether you're in search of utility trailers, heavy-duty haulers, or specialized equipment carriers, Kaufman Trailers has the perfect trailer type for you. 
Take the first step toward hassle-free hauling by exploring our selection now, calling us at 866-455-7444 or filling out the contact form below to get started.