Trailers for Sale in Montana
For thirty years, Kaufman Trailers has been helping families and businesses stay on the road. We understand choosing a trailer can be tricky – that's why our friendly customer service team is here to assist you every step of the way. Designing reliable trailers with quality materials and craftsmanship ensures durability at whatever location your journey takes you. Let us help get you there.
High-Quality Trailers in Montana
Get the perfect trailer for your needs at Kaufman Trailers. We offer a wide range of stylish trailers in various product segments. Our Deluxe Models package is particularly popular, offering features tailored to what you need while keeping costs sensible.
Ordering Your Open Trailer in Montana
At Kaufman Trailers, we work hard to keep costs low without sacrificing the quality workmanship and durability you need. When you buy from us, you are ordering and buying without a dealer middleman involved. This means we never add on dealer markups. Once you choose your trailer, you'll see transparent pricing and a simple, streamlined ordering process.
You can pick up your trailer in person at our Nebraska plant which is the closest plant to Montana. Alternatively, we can ship your trailer to your location in Montana at a low delivery price. You may contact our customer service department for a delivery cost quote.
Detachable Gooseneck Trailers
Reach your destination with ease with a detachable gooseneck trailer. With a capacity of up to 55 tons, they are a trusty companion wherever you are headed.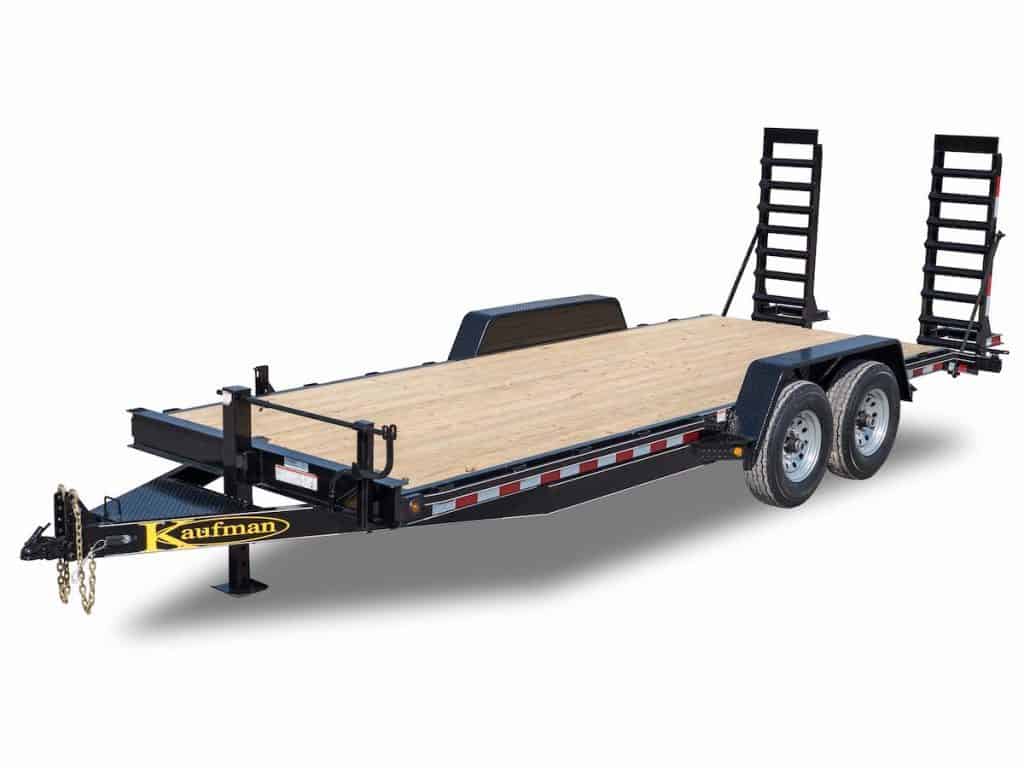 Equipment Trailers
Get your heavy machinery from A to B with ease and reliability by choosing one of our top-of-the-line equipment trailers in Montana. Our robust frames are crafted out of iron, complemented with diamond plate fenders for maximum stability during transportation – providing you the peace of mind that your cargo is safe on its journey.
Car Trailers
Kaufman Trailers specializes in car trailers. Our large variety lets you choose from models that will haul up to six vehicles. No matter which option you select, our car haulers are lightweight and built to last.
Flatbed Trailers
Kaufman's full line of deck-over flatbed trailers is designed to meet the needs of every Montana driver. Our six models can cover everything from a GVWR as low as 14,000 lbs. all the way up to heavy-duty 62,000 lb.-capacity hauls.
Contact Kaufman Trailers in Montana Today
Call Kaufman Trailers today if you are looking for a durable, long-lasting open trailer with the features you need. We deliver open trailers across Montana, including Butte, Bozeman, Billings, Great Falls, Missoula, and Glendive. Talk to a sales representative today by calling 866-455-7444.