Trailers for Sale in Nebraska
In 2022, Kaufman Trailers celebrated 35 years of manufacturing and distributing high-quality, long-lasting open trailers. Since 2006, Kaufman Trailers has been manufacturing trailers in our Beaver City, Nebraska plant. We produce durable, long-lasting trailers for all types of hauling tasks ranging from light-duty utility trailers to heavy-haul detachable gooseneck trailers and car haulers. With our large and varied selection, we know you'll find the trailer you need at a price you can afford.
Choosing the Right Trailer for You
We manufacture a comprehensive line of open trailers in all types of styles and numerous product segments.
Our sales representatives are here to help you through your needs to choose the right trailer for the job at hand.
Ordering Your Open Trailer in Nebraska
At Kaufman Trailers, we work hard to keep costs low without sacrificing the quality, workmanship, and durability you expect. We are the manufacturer, so we never add on dealer markups. When you buy from us, you are ordering and buying without a dealer middleman adding costs. Once you choose your trailer, you'll see transparent pricing and a simple, streamlined ordering process.
If you live in Nebraska, you will be happy to know that we have a plant right here in the state! This means you will have the option to pick up your trailer at our Nebraska plant. Or, we can ship your trailer with other freight which keeps your delivery cost low. It is important to bear in mind that not all models we manufacture are produced in Nebraska. Therefore, we highly recommend you call one of our sales reps at 866-455-7444 to check availability for the model you are looking for.

Detachable Gooseneck Trailers
For heavy haul equipment, we offer Detachable Gooseneck trailers up to 55-ton capacity. These are built at our South Carolina Heavy Haul plant, but we deliver our detachable gooseneck trailer line nationally. For heavy hauling needs, Nebraska drivers have come to trust Kaufman's heavy-duty gooseneck trailers for their most demanding hauling needs.
Car Trailers
Car trailers are our specialty at Kaufman Trailers. Our diverse product range of car trailers includes models that will haul one to six vehicles. No matter which option you select, our car haulers are lightweight and built to last.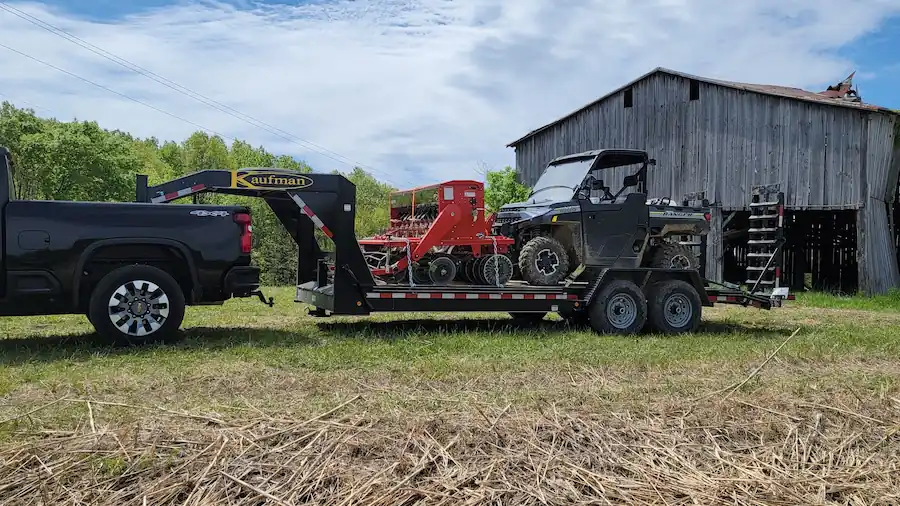 Equipment Trailers
We offer a full line of equipment trailers built at our Nebraska plant. Contractors and construction companies alike rely on Kaufman Trailers for durable equipment trailers to haul skid steers, mini excavators, trenchers, and other machinery. That's because our equipment trailers, like all of our other trailers, are designed for durability and reliability.
Gooseneck Trailers
Our gooseneck trailers are available in various configurations, including deckover, flatbed style, car hauler, and fender style in equipment tilt or fixed bed with swing-up ramps. Our line of gooseneck trailers encompasses six different styles and weight ranges, so you can select the ideal trailer for your needs.
Flatbed Trailers
Kaufman Trailers offers a full line of deckover flatbed trailers that have a wide platform which offers more versatility when hauling cargo. We manufacture six specific types of flatbed trailers for sale in Nebraska with a Gross Vehicle Weight Rating (GVWR) ranging from 14,000 to 62,000. This line is offered with both hydraulically lifted and spring-assisted ramps. With a push of a button, our 8ft. knife-edge paver ramps are hydraulically lifted and lowered, making them popular among paving contractors.
Contact Kaufman Trailers in Nebraska Today
If you are looking for a durable, long-lasting open trailer in Nebraska with all of the features you need, contact us today. We deliver open trailers across Nebraska, including North Platte, Kearney, Lincoln, Norfolk, and Omaha. Talk to a sales representative today by calling 866-455-7444.