Trailers for Sale in Oklahoma
When you're shopping for an open trailer in Oklahoma, Kaufman Trailers is here to help you get exactly what you need. For more than 35 years, Kaufman Trailers has been manufacturing and distributing quality trailers in the US. In 2006, Kaufman Trailers expanded and added a plant in Beaver City, Nebraska to better serve our customers. To that end, you are more than welcome to pick up your trailer at our Nebraska plant or choose to have it delivered to you.
How to Choose an Open Trailer
At Kaufman Trailers, we offer a vast range of open trailers in diverse styles and product categories. As you browse through our inventory of trailers, you'll notice that most trailer styles are available in a standard and deluxe edition. Our deluxe trailer models tend to be our most popular category, as they provide top-of-the-line features that meet specific needs.
Our team is ready to assist you in selecting the perfect trailer for your needs. Contact us today at 866-455-7444 and purchase your ideal trailer.
Ordering Your Open Trailer in Oklahoma
We believe in delivering high-quality and long-lasting trailers that don't break the bank. That's why we never inflate prices with dealer markups or middleman costs. Since we are both the manufacturer and seller, we are able to offer modest-priced trailers for you to enjoy. Plus, our trailer purchasing process is streamlined. Once you find your ideal trailer, a simple and transparent ordering system means your trailer will be available quickly.
You can pick up your trailer at our Nebraska plant, or we can ship your trailer "shared freight" with other trailers on the same load to your location in Oklahoma at a low cost. To request a custom delivery quote, please call us at 866-455-7444. We will be happy to assist you!
Detachable Gooseneck Trailers in Oklahoma
Detachable gooseneck trailers make it safe and convenient to transport machinery and equipment up to 55 tons. With lower load and transport height, it's easy to load and unload your equipment. In addition, detachable gooseneck trailers make towing a safe and stable job.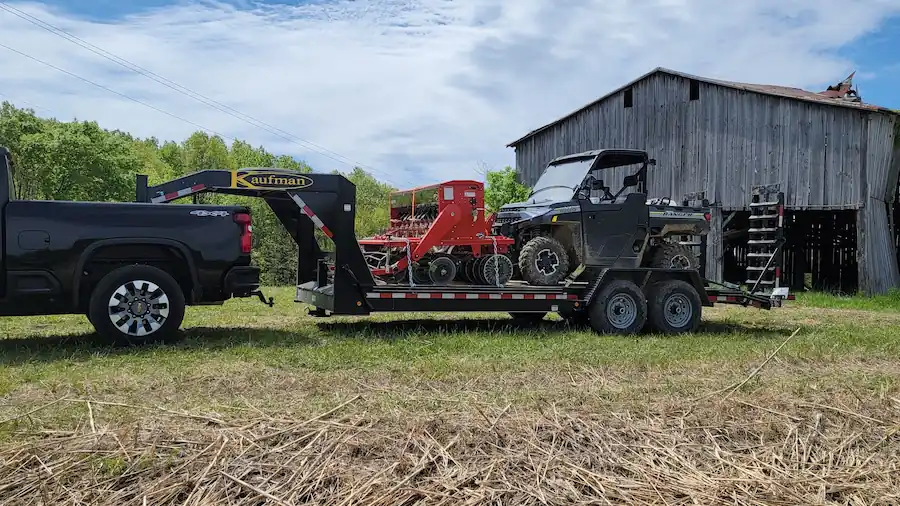 Equipment Trailers in Oklahoma
We offer a full line of equipment trailers that are popular among landscaping companies and contractors who need durable equipment trailers for their daily job. Our equipment trailers are widely used to haul skid steers, mini excavators, trenchers, and other machinery.
Car Trailers in Oklahoma
Our diverse range of car trailers allows you to choose a model that best suits your hauling needs. Kaufman Trailers manufactures car trailers that haul just one car, three cars, five cars, and six cars at once. Regardless of the car trailer you choose, you're sure to invest in a trailer that is built-to-last and reliable.
Flatbed Trailers in Oklahoma
Kaufman offers a full line of deckover flatbed trailers that provide ample stability on the road. We manufacture six different styles of flatbed trailers for sale in Oklahoma, including our popular Air Brake Pintle Flatbed trailer. Depending on your preferences, you can choose either spring-assisted or hydraulically lifted ramps which lift and lower ramps with the push of a button.
Gooseneck Trailers for Sale in Oklahoma
Our gooseneck trailers are available in six different configurations, including deckover, flatbed style, car hauler, equipment tilt, and fixed bed gooseneck trailers that feature swing-up ramps.
Contact Kaufman Trailers in Oklahoma Today
Kaufman Trailers is your source for a durable, long-lasting open trailer with the features you need. We deliver open trailers across Oklahoma, including Oklahoma City, Tulsa, Norman, Broken Arrow, Edmond, and Lawton. Talk to a sales representative today by calling 866-455-7444 or filling out our contact form.