Trailers for Sale in South Carolina
Kaufman Trailers is an industry leader when it comes to trailers for sale in South Carolina. For more than 35 years, we have been providing quality products, affordable trailers, and amazing service.
We make getting your trailer easy with products shipped directly to you in South Carolina – or you can pickup at either our Bennettsville, South Carolina or Lexington, North Carolina plant (depending on what you are getting). Let our experienced team guide you every step of the way so that you can end up with a trailer that fits you and your needs.
Kaufman Trailers can provide you with everything you need. From detachable gooseneck trailers to enclosed trailers and other varieties, we have you covered.
Check out the trailers we offer:

Detachable Gooseneck Trailers
At Kaufman Trailers, our detachable gooseneck trailers come in three different styles to haul all types of heavy equipment. With easy and safe loading, you can choose a detachable gooseneck trailer with capacities from 35 to 55 tons in both tandem and tri-axle configurations. We also have spring and air ride suspensions as well as many other customizable options.
Dump Trailers
If you need a dump trailer in South Carolina, Kaufman Trailers can offer a low-profile style trailer. This means the trailer sits down in between the tires with heavy-duty fenders on the outside of the dump box. Dump trailers for sale in South Carolina come in three different capacities, light, medium, and heavy-duty. All models except our 8,000 GVWR include loading ramps that slide in from the rear of the trailer under the bed. At Kaufman Trailers, all dump trailers are made with a heavy-duty channel iron mainframe, channel wrap-around tongue, and channel cross members. Choose between standard or deluxe versions.
Car Trailers
Kaufman Trailers specializes in car trailers. We offer models that haul one car or as many as six cars. We are especially known for our wedge car trailers because they are lightweight and durable. Kaufman Brand wedges make up about 80% of this type of trailer that is used in the U.S. car hauling market. Our car trailers include deluxe tilt car trailers, gooseneck car trailers, double deck car hauler trailers, and golf car trailers for sale in South Carolina.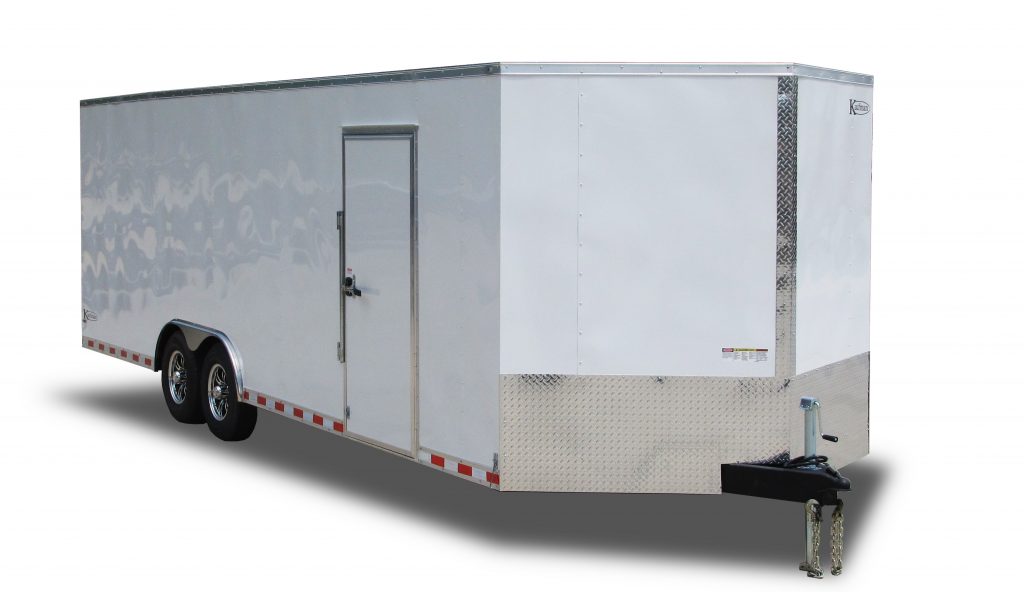 Enclosed Trailers
Enclosed trailers are available in the standard, deluxe, or premium-grade variety. All of our frames at Kaufman Trailers have square and rectangular tube construction for ultimate durability regardless of grade. Each enclosed trailer also comes with Dry Max flooring. This is specially made for enclosed trailers and does not swell or deteriorate with dampness or water exposure. It is a favorite because of its durability.
Equipment Trailers
When you're looking for equipment trailers for sale at Kaufman Trailers, you will find that our fleet is among the most complete on the market. At Kaufman Trailers, we define an equipment trailer as one with the floor down in between the fenders rather than a "deckover trailer" that is built with the floor over the tires. All of our equipment trailers have channel iron frames, except certain skid steer style models which use a heavy angle iron mainframe. All models come with a wrap-around tongue, an adjustable coupler, and a drop foot jack.
Flatbed Trailers
There are six different flatbed trailer styles for sale in South Carolina. Our standard flatbed line has GVWR's ranging from 14,000 to 25,000 lb. Our heavy equipment models are built with heavy-duty pierced frame construction and air brake axles with GVWR's up to 62,000.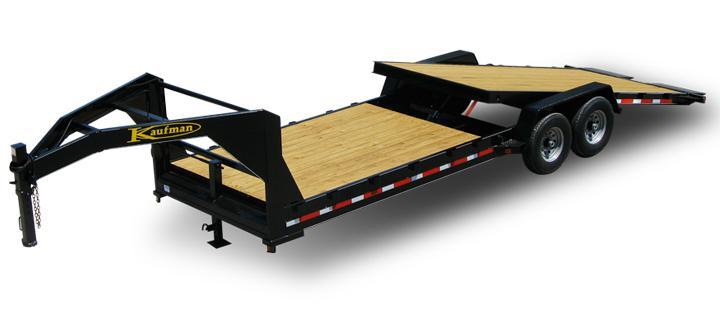 Gooseneck Trailers
Gooseneck trailers come in six different styles and GVWR weight ranges. Our flatbed style has both single and dual wheel versions. Car hauler goosenecks come in two-car, three-car, and two truck versions. Our team of professionals can help you can find the gooseneck trailer that's right for you.
Log Trailers
There are three industry-standard configurations of log trailers for sale in South Carolina. They include a straight frame, plantation, and flat top with sliding bolsters. No matter which you choose, you can expect fully fabricated main frame beams that use 130 KSI heat-treated flanges with 80 KSI webbing.
Utility Trailers
Choose from single and tandem axle utility trailers with top rails and swing-up landscape gates. We also carry wood utility trailers with loading ramps that slide in the rear of the trailer.
Contact Us to Purchase a Trailer in South Carolina
If you're looking for trailers for sale in South Carolina, look no further than Kaufman Trailers. We have a friendly and experienced staff that is ready to answer your questions and help you find the trailer that best suits your needs and your budget. Call us today at 866-455-7444 and learn why Kaufman Trailers has become a trusted name in the trailer industry.