Trailers for Sale in South Dakota
When you're looking for open trailers in South Dakota, Kaufman Trailers is here to help you get exactly what you need. May 2022 marked 35 years of manufacturing and distributing quality Kaufman Trailers. In 2006 we expanded and added a plant in Beaver City, Nebraska to better serve our customers.
We produce long-lasting, durable trailers for all types of hauling tasks ranging from light-duty utility trailers to heavy-haul detachable gooseneck trailers and car haulers. With our huge selection, we know you'll find the trailer you need at an affordable price.
Choosing an Open Trailer
Kaufman Trailers manufactures a comprehensive line of open trailers in all types of styles and numerous product segments.
Our sales representatives are on hand to walk you through your options, so you end up with the right trailer.
Ordering Your Open Trailer in South Dakota

At Kaufman Trailers, we work hard to keep costs low without sacrificing the quality workmanship you expect. All trailers ordered directly from Kaufamn Trailers have no markup fees since we are the manufacturer. Once you choose your trailer, you'll see transparent pricing and a simple, streamlined ordering process.
Most Kaufman Trailers sold to customers in the state of South Dakota will be built in our Nebraska plant. However, it's important to know that not all models we manufacture are produced in Nebraska. To that end, you can call our sales reps to check availability for the model you want.
There are two ways to receive your new trailer. You can pick up your trailer at our Nebraska plant, or we can ship your trailer to your South Dakota location. Call our sales department at 866-455-7444 for a delivery cost quote.
Detachable Gooseneck Trailers
Detachable gooseneck trailers make it safe and convenient to transport machinery and equipment up to 55 tons. With lower load and transport height, equipment is easy to move on and off the trailer. Plus, it's safe and more stable during transportation.

Car Trailers
Our large variety of car trailers includes seven different trailer styles. No matter which option you choose, you can expect our car haulers to be lightweight and built to last.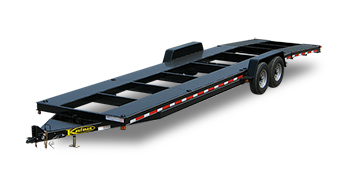 Equipment Trailers
We offer a full line of equipment trailers built at our Nebraska plant. They can be picked up or shipped on our shared freight loads to South Dakota. Contractors and construction companies rely on Kaufman's equipment trailers for their durability and ability to haul skid steers, mini excavators, trenchers, and other heavy machinery.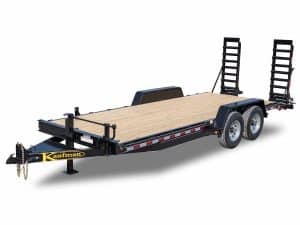 Flatbed Trailers
Kaufman offers a full line of Flatbed trailers with the deck over the tires. We manufacture six specific types of flatbed trailers for sale in South Dakota, including our popular Air Brake Pintle Flatbed trailer. You can choose between spring-assisted or hydraulically lifted ramps.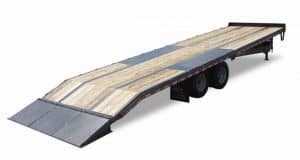 Gooseneck Trailers
We offer gooseneck trailers in various designs, including deckover, flatbed, car hauler, and fender style in equipment tilt or fixed bed with swing-up ramps.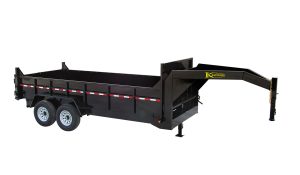 Contact Kaufman Trailers in South Dakota Today
If you need a durable, long-lasting open trailer, Kaufman Trailers has you covered. We deliver open trailers across South Dakota, including Sioux Falls, Rapid City, Aberdeen, Brookings, Watertown, and Mitchell. Talk to a sales representative today by calling 866-455-7444.