What will you do with your Kaufman trailer?
As a Kaufman employee, one of my unofficial hobbies is spotting and photographing Kaufman trailers in the line of duty.  This older 5×8 utility trailer was spotted at the Southeast Old Thresher's Reunion in Denton, NC, and is hauling an early 1900's hit-n-miss single cylinder Economy engine.  It looks like a 3 HP.  Check this blog periodically to see more Kaufman trailers in faithful service.  If you have a Kaufman trailer, and would like to be included on the blog, just click the comments button to give us your success story.  Your photos are welcome too.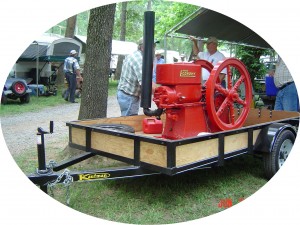 Follow our Facebook page and see more examples of our Kaufman Trailers in use!