Deluxe 10000 GVWR Car Trailer – Diamond Floor – 21 ft.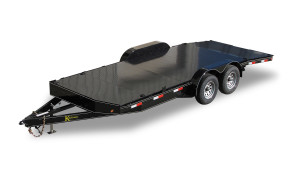 $5,990.00 Factory Direct
Our Deluxe 10000 GVWR Car Trailer is built with a full diamond floor and d-ring tie downs in the corners. The 5″ channel frame runners are turned in which accommodates stake pockets and rub rails. Crossmembers are on 16″ centers. The full length wrap around tongue is 5″ channel. 5,200 lb. ez lube axles with four wheel brakes and 225/15 LRD radial tires comprise the running gear. Components include a fixed 2 5/16 in. A-frame coupler, swing up tongue jack and heavy duty diamond plate fenders. The front corners are beveled with running lights for a great looking car trailer. A dovetail with hidden rear slide-in loading ramps make loading easy. The Deluxe 10000 GVWR Car Trailer package upgrades include a sealed modular wiring harness, LED rubber mounted lights, and radial tires.
CALL CUSTOMER SERVICE WITH QUESTIONS: 866-455-7444
Specifications
| | |
| --- | --- |
| G.V.W.R. | 10,000 lb. |
| Electrical | Sealed modular wiring harness with LED lights |
| Frame | 5 in. channel,with 5 in. channel wrap around tongue, 3 in. channel cross members, 16 in. o.c. |
| Dovetail | 4 ft. |
| Upper Deck | N/A |
| Side Rail | N/A |
| Tongue | 5 in. Channel wrap around |
| Tires | 225/75 R15 (2,540 lb.) Radial |
| Floors | Full diamond plate |
| Coupler | 2-5/16 in. A-frame ball coupler |
| Safety Chains | Heavy duty safety chains |
| Ramps | 60 in. x 14 in. slide in ramps, with diamond surface |
| Tie Downs | D-rings, stake pockets with rub rail |
| | |
| --- | --- |
| Deck Length | 21 ft. (17 ft. + 4 ft. dovetail) |
| Deck Height | 22 in. |
| Deck Width | 82 in. Between fenders |
| Fenders | Heavy duty diamond plate fenders |
| Lower Deck | N/A |
| Brakes | All wheel electric brakes |
| Tailgate | N/A |
| Wheels | Silver or white mod (Based on stock) |
| Jack | 2,000 lb. Swing up jack |
| Axles | 2-5,200 lb. e-z lube axles |
| Suspension | Double eye springs |
| Toolbox | N/A |
| Finish | Primed, 2 coats of automotive grade enamel, pin striped |
Additional Options
| | |
| --- | --- |
| Spare tire and rim | $180.00 |
| 6K Winch | $950.00 |
| | |
| --- | --- |
| Removable Fender (each) | $100.00 |
Additional Lengths
Product Number
Length
Price
Additional Info
FA-5.2K-17D
17 ft.
$5,970.00
Tongue: 5 in. Channel
Frame: 5 in. Channel
Crosspiece: 3 in. Channel
Centers: 16 in.
Top Rail: N/A
Ramp Runners: 2 in. x 2 in. x 3/8 in. angle, 60 in. long
FA-5.2K-19D
19 ft.
$5,980.00
Tongue: 5 in. Channel
Frame: 5 in. Channel
Crosspiece: 3 in. Channel
Centers: 16 in.
Top Rail: N/A
Ramp Runners: 2 in. x 2 in. x 3/8 in. angle, 60 in. long
FA-5.2K-21D
21 ft.
$5,990.00
Tongue: 5 in. Channel
Frame: 5 in. Channel
Crosspiece: 3 in. Channel
Centers: 16 in.
Top Rail: N/A
Ramp Runners: 2 in. x 2 in. x 3/8 in. angle, 60 in. long
FA-5.2K-23D
23 ft.
$6,190.00
Tongue: 5 in. Channel
Frame: 5 in. Channel
Crosspiece: 3 in. Channel
Centers: 16 in.
Top Rail: N/A
Ramp Runners: 2 in. x 2 in. x 3/8 in. angle, 60 in. long
FA-5.2K-25D
25 ft.
$6,390.00
Tongue: 5 in. Channel
Frame: 5 in. Channel
Crosspiece: 3 in. Channel
Centers: 16 in.
Top Rail: N/A
Ramp Runners: 2 in. x 2 in. x 3/8 in. angle, 60 in. long