Standard 10000 GVWR Car Trailer – Diamond Floor – 21 ft.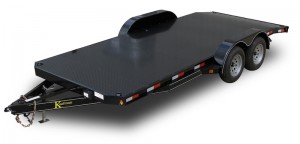 $5,690.00 Factory Direct
Our Standard 10000 GVWR Car Trailer with a full diamond floor and 21 ft. of standard length. Running gear upgrades to 5,200 lb. braking axles with 225/15 LRD radial tires. The frame size is 5 in. channel frame with the channel turned out and 16 in. crossmember centers. The full length wrap around tongue is also 5 in. channel. Components include a fixed 2 5/16 in. A-frame coupler, swing up tongue jack and heavy duty diamond plate fenders. A dovetail with slide-in loading ramps make loading easy. Beveled front corners, rubber mounted lights, and D-rings on the floor complete this great value Standard 10000 GVWR Car Trailer.
CALL CUSTOMER SERVICE WITH QUESTIONS: 866-455-7444
Specifications
| | |
| --- | --- |
| G.V.W.R. | 10,000 lb. |
| Electrical | DOT approved wiring, connectors, and sealed recessed lights |
| Frame | 5 in. channel (channel turned out), with 2 in. x 2 in. x 1/4 in. angle crossmembers 16 in. on center |
| Dovetail | 4 ft. |
| Upper Deck | N/A |
| Side Rail | N/A |
| Tongue | 5 in. Channel wrap around |
| Tires | 225/75 R15 (2,540 lb.) radial |
| Floors | Full diamond plate |
| Coupler | 2-5/16 in. A-frame ball coupler |
| Safety Chains | Heavy duty safety chains |
| Ramps | 60 in. x 14 in. slide in ramps, with diamond surface |
| Tie Downs | D-rings |
| | |
| --- | --- |
| Deck Length | 21 ft. (17 ft. + 4 ft. dovetail) |
| Deck Height | 20 in. |
| Deck Width | 82 in. Between fenders |
| Fenders | Heavy duty diamond plate fenders |
| Lower Deck | N/A |
| Brakes | All wheel electric brakes |
| Tailgate | N/A |
| Wheels | Silver or white mod (Based on stock) |
| Jack | 2,000 lb. Swing up jack |
| Axles | 2-5,200 lb. e-z lube axles |
| Suspension | Double eye springs |
| Toolbox | N/A |
| Finish | Primed, 2 coats of automotive grade enamel, pin striped |
Additional Options
| | |
| --- | --- |
| Spare tire and rim | $180.00 |
| Removeable fender (each) | $100.00 |
Additional Lengths
Product Number
Length
Price
Additional Info
FA-5.2K-17S
17 ft.
$5,670.00
Tongue: 5 in. Channel
Frame: 5 in. Channel
Crosspiece: 2 in. x 2 in. x 1/4 in. angle
Centers: 16 in.
Top Rail: N/A
Ramp Runners: 2 in. x 2 in. x 3/8 in. angle, 60 in. long
FA-5.2K-19S
19 ft.
$5,680.00
Tongue: 5 in. Channel
Frame: 5 in. Channel
Crosspiece: 2 in. x 2 in. x 1/4 in. angle
Centers: 16 in.
Top Rail: N/A
Ramp Runners: 2 in. x 2 in. x 3/8 in. angle, 60 in. long
FA-5.2K-21S
21 ft.
$5,690.00
Tongue: 5 in. Channel
Frame: 5 in. Channel
Crosspiece: 2 in. x 2 in. x 1/4 in. angle
Centers: 16 in.
Top Rail: N/A
Ramp Runners: 2 in. x 2 in. x 3/8 in. angle, 60 in. long
FA-5.2K-23S
23 ft.
$5,890.00
Tongue: 5 in. Channel
Frame: 5 in. Channel
Crosspiece: 2 in. x 2 in. x 1/4 in. angle
Centers: 16 in.
Top Rail: N/A
Ramp Runners: 2 in. x 2 in. x 3/8 in. angle, 60 in. long
FA-5.2K-25S
25 ft.
$6,090.00
Tongue: 5 in. Channel
Frame: 5 in. Channel
Crosspiece: 2 in. x 2 in. x 1/4 in. angle
Centers: 16 in.
Top Rail: N/A
Ramp Runners: 2 in. x 2 in. x 3/8 in. angle, 60 in. long