Double Deck Mini 5 Car Hauler Trailer – 25,000 GVWR / 44 ft.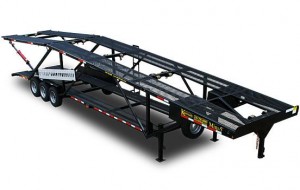 $24,900.00 Factory Direct
Our Mini 5 car hauler trailer is unique to the car hauling industry. This trailer weighs 8,750 lb. complete as shipped with spare tire and aluminum ramps for the stock model. Additional options such as heavy mesh, winch, or the optional torsion axles add weight. It is only 44′ long which makes it easy to maneuver in tight places and does not require a full size road tractor to pull it. The all-tubing, light weight frame features ridged mesh runners for all weather loading traction and weight savings. The hydraulic rear frame is operated with a remote wireless control and loads with the standard 10′ aluminum ramps. Rubber mounted lifetime LED lights and 17.5″ radial tires contribute to profitable and trouble free auto transport with this popular Kaufman 5 car hauler trailer.
We offer a Heavy Duty Mesh Floor Option with Tire Tie Down Ratchets and Straps. The heavier mesh is sized to hook the ratchet tie downs directly into the floor. This tie down system ties the tires of the vehicles being hauled directly to the floor of the trailer. This is superior to the wheel loop tie down system which exerts side pressure on the tires and suspensions of the vehicles being hauled.
New Available Heavy Duty Rubber Torsion Axle Upgrade. No Moving Suspension Parts to Wear Out, Heavy Duty 10K Size Outer Bearing, 12 1/4×3 3/8″ Heavy Duty, Self Adjusting, Long Life Brakes. See Options.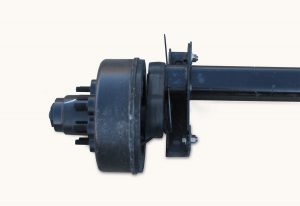 Contact Us Today For Double Deck Mini 5 Car Hauler Trailers
Our sales representatives can help you select the perfect trailer for your hauling needs. Our trailers have no dealer mark-up, and can be delivered factory-direct anywhere in the continental US. Call 866-455-7444 today!
CALL CUSTOMER SERVICE WITH QUESTIONS: 866-455-7444
Specifications
| | |
| --- | --- |
| G.V.W.R. | 25,000 lb. Empty trailer weight is 8,750 lb. This gives a 16,250 lb. load capacity with an assumed hitch weight of 8,000 lb. |
| Electrical | DOT approved wiring, connectors, and all rubber mounted LED lights |
| Frame | 4 in. x 3 in. tubular steel |
| Dovetail | 5 ft. dove |
| Upper Deck | 44 ft. with hydraulically lifted rear platform, with wireless remote |
| Side Rail | N/A |
| Tongue | 4 in. x 3 in. tubular steel |
| Tires | 235/75 R17.5 16PR (6,010) with mounted spare standard |
| Floors | Ridged expanded metal runners with open center |
| Coupler | 2-5/16 in. 25,000 GVWR adjustable ball coupler or SAE 2 in. kingpin |
| Safety Chains | Heavy duty safety chains |
| Ramps | 10 ft. Aluminum ramps |
| Tie Downs | Lower: Ratchets and straps. Upper Deck: Ratchets & 5 ft. transport chains UNLESS heavy mesh option is ordered. |
| | |
| --- | --- |
| Deck Length | 44 ft. 10 in. |
| Deck Height | 94 in. At highest point of upper deck |
| Deck Width | Lower deck: 80 in. Upper deck: 98 in. |
| Fenders | N/A |
| Lower Deck | 34 ft. Useable length |
| Brakes | All wheel electric brakes |
| Tailgate | N/A |
| Wheels | Heavy duty steel wheels |
| Jack | Dual 12,000 lb. drop foot jacks |
| Axles | 3-8,000 lb. e-z lube axles |
| Suspension | Slipper springs |
| Toolbox | 18 in. x 18 in. x 36 in. lockable toolbox |
| Finish | Primed, 2 coats of automotive grade enamel |
Additional Options
| | |
| --- | --- |
| Second spare tire and rim | $500.00 |
| Both 2-5/16 ball coupler and SAE 2 in. kingpin | $100.00 |
| Heavy mesh floor upgrade with tire tie downs. | $1,400.00 |
| | |
| --- | --- |
| 9,000 lb. Electric winch (Set up has access to both decks) | $1,250.00 |
| Heavy Duty Rubber Torsion Axle Upgrade. No Moving Suspension Parts to Wear Out, Heavy Duty 25580 - 10K Size Outer Bearing, 12 1/4"x3 3/8" Heavy Duty Self Adjusting, Long Life Brakes | $1,800.00 |