Double Deck EZ 4 Car Hauler Trailer – 25,000 GVWR / 47 ft.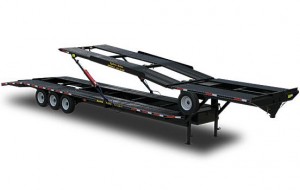 $22,900.00 Factory Direct
Kaufman Trailers EZ 4 car hauler trailer can haul a full size SUV on the front top deck, a pickup or van on the rear lower deck, and two small to medium sized cars in the middle. This heavy duty car hauler trailer is constructed with an all tubing frame and three 8,000 lb. big stud axles with 17.5″ 16PR radial tires. The self contained hydraulic center section is operated with a wireless remote control. 8′ aluminum ramps and ridged mesh decking for traction in all weather conditions make loading a breeze on this versatile 4 car hauler trailer.
We offer a Heavy Duty Mesh Floor Option with Tire Tie Down Ratchet and Straps. The heavier mesh is sized to hook the ratchet tie downs directly into the floor. This tie down system ties the tires of the vehicles being hauled directly to the floor of the trailer. This is superior to the wheel loop tie down system which exerts side pressure on the tires and suspensions of the vehicles being hauled.
Contact Us Today For Four Car Hauler Trailers
Our sales representatives can help you select the perfect trailer for your hauling needs. Our trailers have no dealer mark-up, and can be delivered factory-direct anywhere in the continental US. Call 866-455-7444 today!
CALL CUSTOMER SERVICE WITH QUESTIONS: 866-455-7444
Specifications
| | |
| --- | --- |
| G.V.W.R. | 25,000 lb. |
| Electrical | DOT approved wiring, connectors, and all rubber mounted LED lights |
| Frame | 8 in. x 3 in. Tubular steel |
| Dovetail | 6 ft. |
| Upper Deck | 31 ft. with hydraulically lifted rear platform, with wireless remote |
| Side Rail | N/A |
| Tongue | 10 in. x 4 in. Tubular steel |
| Tires | 215/75 R17.5 16PR (4,805) with mounted spare standard |
| Floors | Ridged expanded metal runners with open center |
| Coupler | 2-5/16 in. 25,000 GVWR adjustable ball coupler or SAE 2 in. kingpin |
| Safety Chains | N/A |
| Ramps | 8 ft. Aluminum ramps |
| Tie Downs | Lower: Ratchets and straps. Upper Deck: Ratchets & 5 ft. transport chains UNLESS heavy mesh option is ordered. |
| | |
| --- | --- |
| Deck Length | 47 ft. (Overall 67 ft. total deck space) |
| Deck Height | N/A |
| Deck Width | N/A |
| Fenders | N/A |
| Lower Deck | 30 ft. flat + 6 ft. dove |
| Brakes | All wheel electric brakes |
| Tailgate | N/A |
| Wheels | Heavy duty steel wheels |
| Jack | Dual 12,000 lb. drop foot jacks |
| Axles | 3-8,000 lb. e-z lube axles |
| Suspension | Slipper springs |
| Toolbox | 18 in. x 18 in. x 36 in. lockable toolbox |
| Finish | Primed, 2 coats of automotive grade enamel, pin striped |
Additional Options
| | |
| --- | --- |
| Second spare tire and rim | $400.00 |
| Both 2-5/16 ball coupler and SAE 2 in. kingpin | $100.00 |
| Heavy mesh floor upgrade with tire tie downs | $1,200.00 |
| | |
| --- | --- |
| 9,000 lb. Electric winch (Set up has access to both decks) | $1,250.00 |