Double Deck Max 6 Car Hauler Trailer – 48,000 GVWR / 53 ft.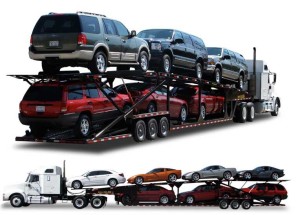 $36,800.00 Factory Direct
Max 6 car trailers are full size car haulers pulled by Class 8 trucks. The Max 6 car hauler trailer has a standard top deck average height of 90″ (7.5 ft) with a 65″ clearance on the bottom deck. This allows 6′ tall vehicles on top deck for 13′ 6″ loaded height. The featured photo shows the Max 6 loaded with two Excursions, an Expedition, a Grand Cherokee, a full-size Dodge Charger, and a Chrysler 300. This demonstrates the Max 6's hauling capabilities. You may not be able to haul this particular load in some places due to height restrictions. It will also haul four small cars on top for a total of seven vehicles. With its 10′ aluminum ramps, the Max 6 will load sports cars on its top deck. A spare tire, wireless remote control to operate the lift gate, rubber mounted LED lights, and Load Range H 17.5 radial tires are all standard equipment on this outstanding value full size 6 car hauler trailer.
We offer a Heavy Duty Mesh Floor Option with Tire Tie Down Ratchet and Straps. The heavier mesh is sized to hook the ratchet tie downs directly into the floor. This tie down system ties the tires of the vehicles being hauled directly to the floor of the trailer. This is superior to the wheel loop tie down system which exerts side pressure on the tires and suspensions of the vehicles being hauled.
53′ Car Trailer may not be legal in all locations!! Check your state laws before purchasing.
Kaufman Trailers can help with financing, setup, service and more. Call TODAY.
Price Shown does NOT include FET
CALL CUSTOMER SERVICE WITH QUESTIONS: 866-455-7444
Specifications
| | |
| --- | --- |
| G.V.W.R. | 48,000 lb. (30,000 lb. axles / 18,000 hitch) |
| Electrical | DOT approved wiring, connectors, and all rubber mounted LED lights |
| Frame | 6 in. x 3 in. tubular steel |
| Dovetail | N/A |
| Upper Deck | 53 ft. with hydraulically lifted rear platform, with wireless remote |
| Side Rail | N/A |
| Tongue | 6 in. x 3 in. tubular steel |
| Tires | 235/75 R17.5 LRH (6005) with mounted spare standard |
| Floors | Ridged expanded metal runners with open center |
| Coupler | SAE 2 in. kingpin only (46 in. to 48 in. hitch height) |
| Safety Chains | N/A |
| Ramps | 10 ft. Aluminum ramps |
| Tie Downs | Lower: Ratchets and straps. Upper Deck: Ratchets & 5 ft. transport chains UNLESS heavy mesh option is ordered. |
| | |
| --- | --- |
| Deck Length | 53ft. top deck (plus 3 ft. front flip-outs) for 56ft. usable. |
| Deck Height | 90 in. at highest point of upper deck on standard model. |
| Deck Width | 98 in. |
| Fenders | N/A |
| Lower Deck | 45 ft. usable space with front jacks bar removed (43 ft. 4 in. of actual floor), 65in. clearance at hump over axle and 60in. at front of lower deck |
| Brakes | Standard air-over hydraulic with ABS. |
| Tailgate | N/A |
| Wheels | Heavy duty steel wheels |
| Jack | Dual 12,000 lb. drop foot jacks |
| Axles | 3-10,000 lb. Oil bath axles |
| Suspension | Slipper springs |
| Toolbox | 18 in. x 18 in. x 36 in. lockable toolbox |
| Finish | Primed, 2 coats of automotive grade enamel |
Additional Options
| | |
| --- | --- |
| Second spare tire and rim | $650.00 |
| 9,000 lb. Electric winch (Set up has access to both decks) | $1,250.00 |
| | |
| --- | --- |
| Rollback style ratchets and straps (per set) | $200.00 |
| Heavy mesh floor upgrade with tire tie downs | $1,800.00 |