Two Car Trailer – 14,000 GVWR / 34 ft.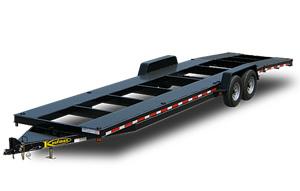 $11,090.00 Factory Direct
Our tag a long two car trailer is built with an all-channel frame that incorporates four 6 in. channel frame runners. Each floor runner has two opposed frame members. These work in conjunction with the diamond floor plate to create a boxed frame for extra stiffness and rigidity. Two 7,000 lb. electric brake axles with heavy duty slipper spring suspension, and 16 in. radial tires provide a long lasting and durable running gear. D-ring tie-downs, a tool tray with lockable lid, and an adjustable 2 5/16 in. coupler are all standard. An optional rollback style ratchet and strap tie-down system is available for this easy to use two car trailer.
A very popular option for this two car trailer is our SUPER DUTY axle/tire upgrade. This includes general duty 8,000 lb. axles and load range H 17.5″ tires on heavy duty wheels. The 8,000 lb. axles feature thicker, high tensile axle beam, larger bearings, and 5/8″ studs. 
CALL CUSTOMER SERVICE WITH QUESTIONS: 866-455-7444
Specifications
| | |
| --- | --- |
| G.V.W.R. | 14,000 lb. |
| Electrical | Sealed modular wiring harness with LED lights |
| Frame | Four 6 in. channels with 6 in. channel cross braces |
| Dovetail | 7 ft. dove, with 5 in. drop |
| Upper Deck | N/A |
| Side Rail | N/A |
| Tongue | 6 in. Channel wrap around |
| Tires | 235/80 R16 LRE (3,520 lb) |
| Floors | 22 in. Diamond plate runners, with open center |
| Coupler | 2-5/16 in. Adjustable ball coupler |
| Safety Chains | Heavy duty safety chains |
| Ramps | 80 in. x 13 in. Slide in ramps, with 2 in. x 2 in. x 3/8 in. angle runners |
| Tie Downs | D-rings |
| | |
| --- | --- |
| Deck Length | 34 ft. (27 ft. flat + 7 ft. dovetail) |
| Deck Height | 26 in. |
| Deck Width | 82 in. Between fenders |
| Fenders | Diamond plate fenders with backs |
| Lower Deck | N/A |
| Brakes | All wheel electric brakes |
| Tailgate | N/A |
| Wheels | Silver or white mod (Based on stock) |
| Jack | 5,000 lb. Removeable sidewind |
| Axles | 2-7,000 lb. e-z lube axles |
| Suspension | Slipper springs |
| Toolbox | Chain box with lockable lid standard |
| Finish | Primed, 2 coats of automotive grade enamel, pin striped |
Additional Options
| | |
| --- | --- |
| Spare tire and rim | $230.00 |
| Stakepockets and rubrail | $300.00 |
| Rollback style ratchet and strap tie-down system (per set) | $200.00 |
| 9K Winch | $1,250.00 |
| | |
| --- | --- |
| Full diamond plate floor | $1000.00 |
| Frame upgrade (8 in. channel runners and cross braces) | $400.00 |
| Removeable fenders (each) | $100.00 |
| 6K Winch | $950.00 |
| Capacity upgrade with 8,000 lb. general duty axles, and 215/75 R17.5 tires | $1,000.00 |
| Capacity upgrade with 8,000 lb. general duty axles, and 215/75R 17.5 LRH Continental HTL 2 Long Distance - premium tire upgrade | $1,600.00 |
Additional Lengths
Product Number
Length
Price
Additional Info
FC-7K-34
34 ft.
$11,090.00
Tongue: 6 in. Channel
Frame: 6 in. Channel
Crosspiece: 6 in. Channel
Top Rail: N/A
Ramp Runners: 2 in. x 2 in. x 3/8 in. angle
FC-7K-36
36 ft.
$11,390.00
Tongue: 6 in. Channel
Frame: 6 in. Channel
Crosspiece: 6 in. Channel
Top Rail: N/A
Ramp Runners: 2 in. x 2 in. x 3/8 in. angle