14,000 to 18,000 GVWR / 50 ft. + 6 ft. Tandem Dual Wedge Car Trailer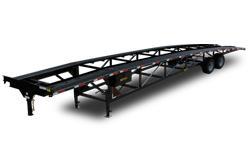 $17,390.00 Factory Direct
This Wedge 4-car trailer is equipped with tandem dual 10K axles. Kaufman Wedge car trailers make up about 2/3rds of the 3 and 4 car trailers on US highways. This 4-car trailer is constructed with a lightweight, hi-tensile tubing frame and lightweight, ridged, mesh runners which reduce weight and wind drag, while giving good loading traction in inclement weather. Flipouts – front and rear – give 56′ of usable load area. Frame upgrades are included over the 3-car model to carry the extra load of a fourth vehicle. Tandem dual 10K oil bath axles with 16″ RADIAL tires add running gear durability. Tying down your load is quick and easy with the tie-down ratchets and wheel straps that are included. These durable 4-car car trailers work well with today's 1-ton pickups.
We offer a Heavy Duty Mesh Floor Option with Tire Tie Down Ratchet and Straps. The heavier mesh is sized to hook the ratchet tie downs directly into the floor. This tie down system ties the tires of the vehicles being hauled directly to the floor of the trailer. This is superior to the wheel loop tie down system which exerts side pressure on the tires and suspensions of the vehicles being hauled.
Deluxe Package – includes 8′ aluminum ramps, Load Range G steel radial tires with spare, USA made wiring harness with all copper wiring, lifetime LED lights – Special Package Pricing – See Options
Photo shown is the 50′ Tandem Dual three car model.
CALL CUSTOMER SERVICE WITH QUESTIONS: 866-455-7444
Specifications
| | |
| --- | --- |
| G.V.W.R. | 14,000 lb. to 18,000 lb. customer specified |
| Electrical | DOT approved lights, wiring, and connectors |
| Frame | 6 in. x 3 in. tubular steel |
| Dovetail | N/A |
| Upper Deck | N/A |
| Side Rail | 3 in. x 3 in. x 3/16 in. angle |
| Tongue | 6 in. x 3 in. tubular steel |
| Tires | 235/80 R16 LRE (3,097 lb.) |
| Floors | 23 in. Ridged mesh runners with 44 in. open center between runners |
| Coupler | 2-5/16 in. Adjustable ball coupler |
| Safety Chains | Heavy duty safety chains |
| Ramps | 72 in. x 14-3/4 in. Slide in ramps, with 2 in. x 2 in. x 3/8 in. runners |
| Tie Downs | 16 Wheel straps with ratchets |
| | |
| --- | --- |
| Deck Length | 50 ft. + 6 ft. (10 ft. flat + 40 ft. slope + 3 ft. extensions front & rear) |
| Deck Height | 66 in. (on 10 ft. flat with trailer level) |
| Deck Width | 90 in. |
| Fenders | N/A |
| Lower Deck | N/A |
| Brakes | All wheel electric brakes |
| Tailgate | N/A |
| Wheels | Silver or white mod (Based on stock) |
| Jack | Dual 12,000 lb. drop foot jacks |
| Axles | 2-10,000 lb. Oil bath axles |
| Suspension | Slipper springs |
| Toolbox | 18 in. x 18 in. x 36 in. lockable toolbox |
| Finish | Primed, 2 coats of automotive grade enamel, pin striped |
Additional Options
| | |
| --- | --- |
| Spare tire and rim | $260.00 |
| Load Range G (14 ply rating) all-steel radials | $1000.00 |
| Load Range G (14 ply rating) all-steel radial - spare tire | $330.00 |
| Extra toolbox | $500.00 |
| 102 in. wide (32 in. ridged mesh runners, with 38 in. open center) | $500.00 |
| 8 ft. Aluminum ramps instead of steel ramps | $800.00 |
| Trailer hauling package (includes 102 in. wide, center rail with ball towers, and 9,000 lb. electric winch) | $2,900.00 |
| Heavy mesh floor upgrade with tire tie downs - for 23" runners | $800.00 |
| Heavy mesh floor upgrade with tire tie downs - for 32" runners | $1,100.00 |
| | |
| --- | --- |
| Lifetime LED lights | $100.00 |
| Kingpin coupler | $100.00 |
| Dual speed jacks | $150.00 |
| Sealed wiring harness | $290.00 |
| 9,000 lb. electric winch | $1,250.00 |
| Deluxe Package - Load Range G steel radial tires WITH spare, sealed wiring harness, lifetime LED lights, and 8 ft. aluminum ramps (Package is $2,520 if options are purchased separately) | $2,220.00 |