15000 GVWR Standard Gooseneck Dump Trailer – 14 ft. x 82 in.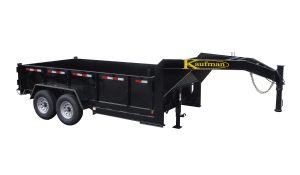 $11,990.00 Factory Direct
Available Only in Nebraska
Kaufman Trailer's heavy duty 15000 GVWR Standard Gooseneck Dump Trailer is available in 14′x82″ size. This heavy duty gooseneck dump trailer is great for a commercial user who wants increased control that comes with a gooseneck hitch when towing. It is ideal for a farmer, or professional landscaper, or roofer. The frame is 6 in. channel with a 6 in. frame doubler and 8 in. channel uprights and gooseneck. It has dual straight action 3.5″ cylinders with a self-contained hydraulic pump, deep cycle battery, and remote control. These cylinders add 30% lifting capacity over dual 3″ cylinders. The floor has d-ring tie-downs on all four corners. Stake pocket openings are cut into the top rail. There is a combo barn doors and dump-and-spread tailgate. The 6′ loading ramps slide in under the floor and can be used to load a skid steer or tractor. The tailgate does NOT need to be removed to use the loading ramps. There are brackets mounted on the front of the headboard to accept on optional tarp kit (see options). The running gear is this 15000 GVWR Standard Gooseneck Dump Trailer is 7,000 lb. 8-lug axles with 4-wheel brakes, heavy duty slipper spring suspension, and 235/80 R16 LRE radial tires. An adjustable 2-5/16 gooseneck coupler and a 12,000 lb. heavy duty drop foot jack are included. Full primer with two coats of automotive quality enamel with hardener make this a great-looking trailer. Safety chains, full reflective tape, and a break-a-way switch meet all safety requirements. Conventional wiring with rubber mounted sealed beam lights complete the package on this 15000 GVWR Standard Gooseneck Dump Trailer.
See options for the Deluxe package upgrade that includes a U.S. made sealed modular wiring harness and lifetime LED lights – for only $200.
Sorry! The 15000 GVWR Standard Gooseneck Dump Trailer is only available in the 14′ length.

CALL CUSTOMER SERVICE WITH QUESTIONS: 866-455-7444
Specifications
| | |
| --- | --- |
| G.V.W.R. | 15,000 lb. |
| Electrical | DOT approved wiring, connectors, and sealed recessed lights |
| Frame | 8 in. channel gooseneck and uprights. 6 in. channel frame with 6 in. channel doubler underneath and 5 in. channel doubler inside frame. |
| Dovetail | N/A |
| Upper Deck | N/A |
| Side Rail | 24 in. sides |
| Tongue | 8 in. channel gooseneck |
| Tires | 235/80 R16 LRE (3,520 lb.) |
| Floors | 12 ga. steel floor |
| Coupler | Adjustable 2-5/16 gooseneck coupler |
| Safety Chains | Heavy duty safety chains |
| Ramps | 3 in. channel 15 in. x 72 in. ramps - slide in under bed. |
| Tie Downs | 4 D-rings - mounted inside each corner of bed |
| | |
| --- | --- |
| Deck Length | 14 ft. with dual cylinder hydraulic dump box bed |
| Deck Height | 28 in. |
| Deck Width | 82 in. |
| Fenders | Heavy duty fenders |
| Lower Deck | N/A |
| Brakes | All wheel electric brakes |
| Tailgate | 24 in. combination barn doors and barn doors tailgate |
| Wheels | Silver or white mod (based on stock) |
| Jack | 12,000 lb. drop foot |
| Axles | 2-7,000 lb. e-z lube axles |
| Suspension | 3,500 lb. slipper springs |
| Toolbox | Standard - contains hydraulic pump and deep cycle battery |
| Finish | Primed, 2 coats of automative grade enamel, pin striped |
Additional Options
| | |
| --- | --- |
| Spare tire and rim | $210.00 |
| Tarp Kit | $325.00 |