17000 GVWR Deluxe Gooseneck Dump Trailer – 16 ft. x 80 in.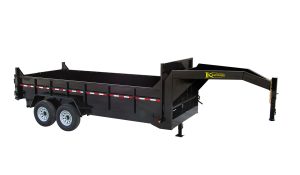 $11,990.00 Factory Direct
Kaufman Trailer's Heavy Duty 17000 GVWR Deluxe Gooseneck Dump Trailer is available in 16 ft. x 80 in. size. This premium gooseneck dump trailer is great for commercial users who wants the increased control that comes from a gooseneck hitch when towing. The frame is built with 8″ channel with 8″ channel uprights and gooseneck. The dump box is constructed with a tubing frame and channel cross-members, and has a one-piece floor 10 ga. (.135″) with an optional super duty 3/16″ (.187″) available thickness. Many of our competitors offer a 10 gauge floor as their version of "heavy duty". 10 gauge is .135″ thick. Our .187″ heavy duty option is 28% thicker than the Brand Name competitors heavy duty floor. The one-piece floor has d-ring tie-downs on all four corners. There is a 24 in. Combination barn doors and spreader tailgate. The 6′ loading ramps slide in under the floor. The tailgate does NOT need to be removed to use the loading ramps. The raised front bulk-head and rear post assembly are made to accept side boards. An optional tarp kit is easily mounted on the front of the headboard (see options). The 17000 GVWR Deluxe Gooseneck Dump Trailer has a powerful scissor lift that is operated by a self-contained hydraulic pump. There is a deep cycle battery and remote control. Running gear is 8,000 lb. axles with 4-wheel brakes, heavy duty slipper spring suspension, and 215/75 R17.5 LRH radial tires. The 2-5/16″ gooseneck coupler is adjustable along with a heavy duty 12,000 lb. drop foot jack. Full primer with two coats of automotive quality enamel with hardener make this a great-looking trailer. Safety chains, full reflective tape, and a break-a-way switch meet all safety requirements. Trouble free lighting is assured with a U.S. made sealed modular wiring harness and lifetime LED lights on this 17000 GVWR Deluxe Gooseneck Dump Trailer.
Sorry! This Deluxe Gooseneck Heavy Duty Dump Trailer is available from our North and South Carolina plants, but not our Nebraska plant.
The 17000 GVWR Deluxe Gooseneck Dump Trailer is also available in the 14′ length – but there is no price break.
CALL CUSTOMER SERVICE WITH QUESTIONS: 866-455-7444
Specifications
| | |
| --- | --- |
| G.V.W.R. | 17,000 lb. |
| Electrical | DOT reflective tape, all rubber mounted sealed beam LED lighting with U.S. made sealed modular wiring harness. |
| Frame | 8 in. channel gooseneck and uprights. 8 in. channel frame. |
| Dovetail | N/A |
| Upper Deck | N/A |
| Side Rail | 24 in. sides |
| Tongue | 8 in. channel gooseneck |
| Tires | 215/75 R17.5 LRH |
| Floors | 10 ga. one piece steel floor (3/16 in. optional) |
| Coupler | Adjustable 2-5/16 gooseneck coupler |
| Safety Chains | Heavy duty safety chains |
| Ramps | 3 in. channel 13 in. x 72 in. ramps - slide in under bed. |
| Tie Downs | 4 D-rings - mounted inside each corner of bed |
| | |
| --- | --- |
| Deck Length | 16 ft. |
| Deck Height | 30 in. |
| Deck Width | 80 in. |
| Fenders | Heavy duty diamond plate fenders |
| Lower Deck | N/A |
| Brakes | All wheel electric brakes |
| Tailgate | 24 in. Combination barn doors and spreader tailgate |
| Wheels | Silver or white mod (based on stock) |
| Jack | 12,000 lb. drop foot |
| Axles | 2-8,000 lb. e-z lube axles |
| Suspension | HD slipper springs |
| Toolbox | Standard - contains hydraulic pump and deep cycle battery |
| Finish | Primed, 2 coats of automative grade enamel, pin striped |
Additional Options
| | |
| --- | --- |
| Spare tire and rim (17.5) | $400.00 |
| Wireless Remote | $250.00 |
| Upgrade to 3/16 in. (.187 in.) floor thickness. (Competitors 10 gauge floor is .135" thick. Our .187" super duty option is 28% thicker than 10 gauge.) | $700.00 |
| Tarp Kit | $325.00 |
| | |
| --- | --- |
| 4ft. high sides with removable rear support bar on 16ft. trailer | $1,400.00 |