25000 GVWR Deluxe Tandem Dual Gooseneck Dump Trailer – 20′ x 90″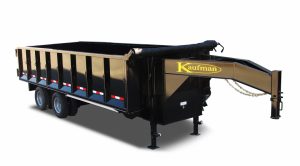 $19,490.00 Factory Direct
Kaufman Trailers Tandem Dual Gooseneck Dump Trailer Features:
Kaufman Trailer's Heavy Duty 25000 GVWR Deluxe Tandem Dual Gooseneck Dump Trailer is offered in 20 ft. standard length with 90 in. of usable width inside the bed. This dump trailer is built to commercial use standards with many great heavy duty features. We start with a 12″ I-beam main frame, uprights, and gooseneck riding on 10,000 lb. Dexter dual wheel axles. The dump box is built with a tubing frame and channel cross-members, and has a one-piece 10 ga. (.135″) floor. We offer an optional super duty 3/16″ (.187″) available thickness as well. This is a one-piece, full length floor with no seams. The sides have a 45 degree turn where they join the floor to minimize dirt sticking in the corners when dumped. The sides are built with 3×3 square tubing and are welded solid. Self cleaning rock guards are standard on the outside. These sides are much stronger than the bolt on sides of most of our competitors. They are built with similar construction to dump truck beds. There are D-rings on the floor in all four corners and two in the middle to tie down equipment you may haul. 8′ triple tube aluminum ramps, designed especially for this trailer, are standard and are mounted in an easy to remove location just ahead of the axles. Our heavy duty scissor features twin cylinders for powerful and stable dumping. A heavy duty tarp is included standard.
Full primer with two coats of automotive quality enamel with hardener make this a great-looking trailer. Safety chains, full reflective tape, and a break-a-way switch meet all safety requirements. Trouble free lighting is assured with a U.S. made sealed modular wiring harness and lifetime LED lights on this 25000 GVWR Deluxe Tandem Dual Gooseneck Dump Trailer.
Sorry! This Deluxe Gooseneck Heavy Duty Dump Trailer is available from our North and South Carolina plants, but not our Nebraska plant.
CALL CUSTOMER SERVICE WITH QUESTIONS: 866-455-7444
Specifications
| | |
| --- | --- |
| G.V.W.R. | 25,000 lb. - Empty weight 7,500 lb. - Capacity 17,500 lb. |
| Electrical | DOT reflective tape, all rubber mounted sealed beam LED lighting with U.S. made sealed modular wiring harness |
| Frame | W12x16 I-Beam main frame, uprights, and gooseneck |
| Dovetail | N/A |
| Upper Deck | N/A |
| Side Rail | HD fixed sides - 42 in. tall - out of 3x3 tubing with self cleaning stone guards |
| Tongue | 12 in. I-beam |
| Tires | 235/80 R16 LRE Westlake |
| Floors | 10 ga. standard. HD 3/16 optional thickness. |
| Coupler | Adjustable 2 5/16 gooseneck coupler |
| Safety Chains | HD safety chains |
| Ramps | 8 ft. aluminum triple tube, cleated ramps with holders |
| Tie Downs | 6 D-rings in bed |
| | |
| --- | --- |
| Deck Length | 20 ft. |
| Deck Height | 36 in. |
| Deck Width | 90 in. |
| Fenders | N/A |
| Lower Deck | N/A |
| Brakes | 12 1/4" x 3 3/8" Electric |
| Tailgate | One piece tailgate with super duty screw latch |
| Wheels | Dual wheels |
| Jack | Dual 12K drop foot |
| Axles | 10K Dexter oil bath |
| Suspension | HD slipper springs |
| Toolbox | Battery, pump, and hydraulics enclosed in toolbox |
| Finish | Primed, 2 coats of automotive grade enamel |
Additional Options
| | |
| --- | --- |
| Spare tire and rim | $260.00 |
| Load Range G (14 ply rating) all-steel radials | $1000.00 |
| Load Range G (14 ply rating) all-steel radial - spare tire | $330.00 |
| Premium 235/85 R16 LRE USA made tires - Cooper Discoverer HT3 | $1000.00 |
| Premium 235/85 R16 LRE USA made spare tire - Cooper Discoverer HT3 | $330.00 |
| Heavy Duty 3/16" One Piece Floor | $1000.00 |