17,000 GVWR Deluxe Gravity Tilt Forklift Trailer – 16 ft.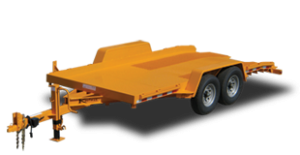 $8,990.00 Factory Direct
Kaufman Trailer's 17000 GVWR Deluxe Gravity Tilt Forklift Trailer is purpose built for hauling a conventional forklift. The diamond plate floor sits low in the frame. A built-in dovetail and lip around the sides with traction strips make loading your forklift easy and safe. Running gear is two 8,000 lb. 8 lug axles with heavy duty slipper spring suspension and 17.5 in. load range H radial tires. The deluxe package adds a rubrail to the stakepockets, a heavy duty 12,000 lb. drop foot jack, a heavy duty cast iron adjustable coupler upgrade, and a sealed modular wiring harness instead of conventional wiring. Lifetime LED rubber mount lights are also included on this 17000 GVWR Deluxe Gravity Tilt Forklift Trailer.
Hauling a conventional forklift requires a purpose built trailer. The rear counter weight and small rear tires place stress added in a small concentrated load area. Because of this concentrated load, most standard trailer designs are not adequate. Our forklift model has 12 in. cross member spacing AND heavy duty reinforcement strips under this area to add extra support the floor. The easy loading angle and ridged traction strips that we add make loading and hauling your forklift easy with this custom Kaufman 17000 GVWR Deluxe Gravity Tilt Forklift Trailer.
Due to its design, this trailer does not pull well when empty. Be advised that slower speeds are necessary when transporting this trailer with no load!
TRAILER IS SHOWN IN OPTIONAL YELLOW
CALL CUSTOMER SERVICE WITH QUESTIONS: 866-455-7444
Specifications
| | |
| --- | --- |
| G.V.W.R. | 17,000 lb. |
| Electrical | Sealed wiring harness with lifetime LED lights |
| Frame | 6 in. x 4 in. x 3/8 in. Angle, with 3 in. channel crossmembers |
| Dovetail | 3 ft. Dove |
| Upper Deck | N/A |
| Side Rail | N/A |
| Tongue | 6 in. x 3 in. Tubular neck |
| Tires | 215/75 R17.5 |
| Floors | Diamond plate with ridged mesh traction strips |
| Coupler | Super duty cast iron 2 5/16 adjustable coupler |
| Safety Chains | Heavy duty safety chains |
| Ramps | 24 in. Wide x 14 in. long beveled extensions |
| Tie Downs | Stake pockets and Rubrail |
| | |
| --- | --- |
| Deck Length | 16 ft. 9 in. (13 ft. 7 in. flat + 3 ft. dovetail) |
| Deck Height | 20 in. |
| Deck Width | 82 in. Between fenders |
| Fenders | Diamond plate fenders |
| Lower Deck | N/A |
| Brakes | All wheel electric brakes |
| Tailgate | N/A |
| Wheels | Silver or white mod (Based on stock) |
| Jack | 12,000 lb. Drop foot jack |
| Axles | 2-8,000 lb. e-z lube axles |
| Suspension | Slipper springs |
| Toolbox | N/A |
| Finish | Primed, 2 coats of automotive grade enamel, pin striped |
Additional Options
| | |
| --- | --- |
| Spare tire and rim (17.5) | $400.00 |
| Spare tire and rim (17.5 Continental upgrade) | $600.00 |
| 215/75R 17.5 LRH Continental HTL 2 Long Distance - premium tire upgrade | $550.00 |
| | |
| --- | --- |
| Adjustable 2-5/16 in. ball and pintle ring | $80.00 |