Deluxe Drop Deck Flatbed Trailer – 55,000 GVWR / 39.5 ft.
$23,990.00 Factory Direct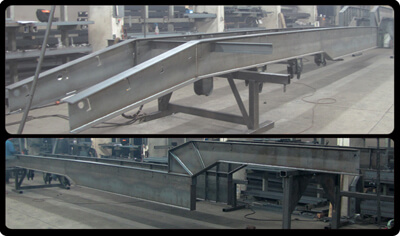 Price Shown Does Not Include FET
Kaufman Trailers two axle Deluxe Drop Deck Flatbed Trailer is built with full length fabricated beam frames with pierced crossmember construction. These cambered beams are 24 in. deep in the main body and are manufactured with 80,000 psi high-tensile steel. Fleetcraft or Power Products 22,500 lb. airbrake oil bath axles ride on a Hutchens slipper spring suspension. A Haldex ABS braking system, spring brakes on both axles, and oak flooring are included. A Sealco modular wiring harness with lifetime LED lighting makes this top quality drop deck flatbed trailer a true industry leader and is built to last! Optional hydraulic ramps make this Deluxe Drop Deck Flatbed Trailer ideal for paving equipment.
CALL CUSTOMER SERVICE WITH QUESTIONS: 866-455-7444
Specifications
| | |
| --- | --- |
| G.V.W.R. | 55,000 lb. - 11,000 lb. approx. empty wt., Capacity 44,000 lb. evenly distributed over full length of trailer. Concentrated load capacity is 40,000 lbs. in 12ft. of bed length. |
| Electrical | DOT approved lighting, US made sealed wiring harness, LED lights |
| Frame | 24 in. Fabricated main beam. Cambered, High Tensile, 1 piece from front to rear of trailer |
| Dovetail | 5 ft. Wood |
| Upper Deck | 10 ft. Oak deck, with 2 ft. Oak slope, and 46 in. jumper ramps stored under slope. |
| Side Rail | 8 in. channel |
| Tongue | N/A |
| Tires | 215/75 R17.5 LRH (4,540 lb.) |
| Floors | Oak |
| Coupler | SAE Kingpin hitch |
| Safety Chains | N/A |
| Ramps | 66 in. x 28 in. Heavy duty oak lined, swing-up 6 in. channel ramps with spring assist |
| Tie Downs | D-rings |
| | |
| --- | --- |
| Deck Length | 39ft. 6in. (10 ft. upper, 2 ft. slope, 22 ft. lower, 5ft. dove) |
| Deck Height | 39 in. (loaded) - with side steps standard |
| Deck Width | Maximum 102 in. |
| Fenders | N/A |
| Lower Deck | 22 ft. Oak deck |
| Brakes | All wheel air brake with spring lock each wheel (ABS) |
| Tailgate | N/A |
| Wheels | Heavy duty dual 17.5 in. wheels |
| Jack | 2-25,000 lb. Dual speed jacks |
| Axles | 2-22,500 Fleetcraft or Power Products oil bath axles |
| Suspension | Hutchens slipper |
| Toolbox | N/A |
| Finish | Primed, 2 coats of automotive grade enamel |
Additional Options
| | |
| --- | --- |
| Spare tire and rim | $400.00 |
| 5 ft. Self-cleaning Dovetail | $500.00 |
| | |
| --- | --- |
| 66 in. x 28 in. self cleaning cleated iron ramps (6 in. channel ramp runners) | $300.00 |
| 72 in. x 28 in. Heavy duty wood lined ramps with spring assist (upgrades to 8" channel ramp runners) | $300.00 |
| 72 in. x 28 in. Heavy duty cleated ramps with spring assist (upgrades to 8" channel ramp runners) | $500.00 |
| 60 in. Wood-lined, double-hinged, lay-flat ramps. Made heavy duty with channel framing for heavy equipment.-hinged, lay-flat ramps. Made heavy duty with channel framing for heavy equipment. | $500.00 |
| 60 in. Cleated, double-hinged, lay-flat ramps. Made heavy duty with channel framing for heavy equipment. | $500.00 |
| Self-contained hydraulic ramps, with sizes up to 34.5 in. x 96 in. for wood lined. And 33 in. x 96 in. for self-cleaning (cleated angle iron - additional cost) Specify to your Sales Rep 5' OR 6' dovetail. 6' dovetail recommended for paving equipment | $3,200.00 |
Additional Lengths
Product Number
Length
Price
Additional Info
FAD-22.5K-39.5FabD
39 ft. 6 in.
$23,990.00
Frame: 24in. Fabricated main beam
Crosspiece: 4 in. Channel, pierced
Centers: 16 in.
Side Rail: 8 in. Channel
Ramp Runners: 6 in. Channel
FAD-22.5K-43.5FabD
43 ft. 6 in.
$24,990.00
Frame: 24in. Fabricated main beam
Crosspiece: 4 in. Channel, pierced
Centers: 16 in.
Side Rail: 8 in. Channel
Ramp Runners: 6 in. Channel
FAD-22.5K-47.5FabD
47 ft. 6 in.
$25,990.00
Frame: 24in. Fabricated main beam
Crosspiece: 4 in. Channel, pierced
Centers: 16 in.
Side Rail: 8 in. Channel
Ramp Runners: 6 in. Channel
FAD-22.5K-51.5FabD
51 ft. 6 in.
$26,990.00
Frame: 24in. Fabricated main beam
Crosspiece: 4 in. Channel, pierced
Centers: 16 in.
Side Rail: 8 in. Channel
Ramp Runners: 6 in. Channel