Standard Drop Deck Flatbed Trailer – 50,000 GVWR – 40 ft.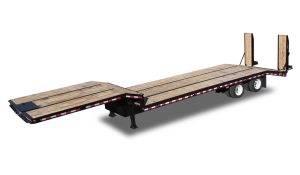 $21,990.00 Factory Direct
Price Shown Does Not Include FET
Kaufmans Standard drop deck flatbed trailer is built with mill beams and a fabricated neck. While not as robust a frame as our fabricated beam model, this trailer is never-the-less a great value. It has the same Fleetcraft or Power Products axles and Hutchens suspension running gear as our standard fabricated beam drop deck flatbed trailer models.
Premium Continental tire upgrade now available – see options
CALL CUSTOMER SERVICE WITH QUESTIONS: 866-455-7444
Specifications
| | |
| --- | --- |
| G.V.W.R. | 50,000 lb. - Capacity 39,000 lb. evenly distributed, concentrated load capacity is 29,000 lbs. in 12ft. of bed length. |
| Electrical | DOT approved lights, connectors, and sealed wiring harness |
| Frame | 14 in. Pierced i-beam, 26 lbs. per foot |
| Dovetail | 5 ft. Wood |
| Upper Deck | 10 ft. Oak deck |
| Side Rail | 8 in. channel |
| Tongue | Fabricated I-beam neck |
| Tires | 215/75 R17.5 LRH (4,540 lb.) |
| Floors | Oak |
| Coupler | SAE Kingpin hitch |
| Safety Chains | N/A |
| Ramps | 60 in. x 28 in. Heavy duty oak lined, swing-up ramps with spring assist |
| Tie Downs | D-rings |
| | |
| --- | --- |
| Deck Length | 40 ft. (10 ft. upper deck, 2 ft. slope, 23 ft. lower deck, 5 ft. dove) |
| Deck Height | 35 in. (loaded) - with side steps standard |
| Deck Width | Maximum 102 in. |
| Fenders | N/A |
| Lower Deck | 23 ft. Oak deck |
| Brakes | All wheel air brake with spring lock each wheel (ABS) |
| Tailgate | N/A |
| Wheels | Heavy duty dual 17.5 in. wheels |
| Jack | 2-25,000 lb. Dual speed jacks |
| Axles | 2-22,500 Fleetcraft or Power Products oil bath axles |
| Suspension | Hutchens slipper |
| Toolbox | N/A |
| Finish | Primed, 2 coats of automotive grade enamel |
Additional Options
| | |
| --- | --- |
| Spare tire and rim | $400.00 |