25000 GVWR Heavy Duty Paver Flatbed Trailer – 30 ft. – Deluxe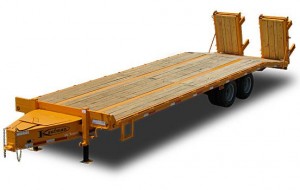 $15,990.00 Factory Direct
Our 25000 GVWR Heavy Duty Paver Flatbed Trailer has 24 ft. of flatbed and 6 ft. of dovetail. Construction starts with massive one piece 14 in. at 22 lb./ft. high tensile main beams. A paving machine hauled at the front of a flatbed trailer of this length places significant stress on the frame and tongue. The massive frame on this paver trailer is designed to endure this stress and still give the full expected service life. The tongue is cold formed in a hydraulic press and we use pierced crossmember construction. 10,000 lb. oil-bath dually axles, heavy duty slipper spring suspension, and 16 in. radial tires provide a long lasting and durable running gear. 8 ft. hydraulic ramps are a popular option on this model. Dual heavy duty 12,000 lb. drop foot jacks, stake pockets with rub rail, treated wood flooring, a tool tray with a lockable lid, an adjustable hitch height, and a US made sealed modular wiring harness with lifetime LED lighting make this user friendly 25000 GVWR Heavy Duty Paver Flatbed Trailer an industry leader.
Kaufman Trailers expert customer service team can help you order a 25000 GVWR Heavy Duty Paver Flatbed Trailer today! Call 866-455-7444!
Shown in optional Yellow. In Stock available in Black.
CALL CUSTOMER SERVICE WITH QUESTIONS: 866-455-7444
Specifications
| | |
| --- | --- |
| G.V.W.R. | 25,000 lb. Load capacity 19,000 lb. with 6,000 lb. hitch load. |
| Electrical | DOT approved lights, wiring, and connectors |
| Frame | 14 in. Pierced i-beam, 22 ppf., with 3 in. channel crossmembers 16in. o.c. |
| Dovetail | 6 ft. Wood dove |
| Upper Deck | N/A |
| Side Rail | 6 in. Channel |
| Tongue | Cold formed |
| Tires | 235/80 R16 LRE (3,097 lb.) |
| Floors | 2 in. Treated Wood |
| Coupler | Adjustable pintle eye - mounts on four bolt 1/2" thick 25,000 GVWR nose plate |
| Safety Chains | Heavy duty safety chains |
| Ramps | Heavy duty bi-fold ramps, 9 ft. extended, with spring assist (20k capacity) |
| Tie Downs | Stake pockets and Rubrail |
| | |
| --- | --- |
| Deck Length | 30 ft. (24 ft. flat + 6 ft. dove) |
| Deck Height | 37 in. with side steps |
| Deck Width | Maximum 102 in. |
| Fenders | N/A |
| Lower Deck | N/A |
| Brakes | All wheel electric brakes |
| Tailgate | N/A |
| Wheels | Heavy duty bud style dual wheels |
| Jack | Dual 12,000 lb. drop foot jacks |
| Axles | 2-10,000 lb. Oil bath axles |
| Suspension | Slipper springs |
| Toolbox | Chain box with lockable lid |
| Finish | Primed, 2 coats of automotive grade enamel |
Additional Options
| | |
| --- | --- |
| Spare tire and rim | $260.00 |
| Load Range G (14 ply rating) all-steel radials | $1000.00 |
| Load Range G (14 ply rating) all-steel radial - spare tire | $330.00 |
| | |
| --- | --- |
| Torque tube | $100.00 |
| Two speed 12K jacks | $150.00 |
| 9K Winch | $1,250.00 |
| Self-contained hydraulic ramps, with sizes up to 34.5 in. x 96 in. for wood lined. And up to 33 in. x 96 in. for self-cleaning ramps | $3,400.00 |
Additional Lengths
Product Number
Length
Price
Additional Info
FHPVR-10K-30D
30 ft.
$15,990.00
Tongue: Cold Formed
Frame: 14 in. x 22 ppf. Pierced i-beam
Crosspiece: 3 in. Channel
Centers: 16 in.
Side Rail: 6 in. Channel
Ramp Runners: 3 in. x 4 in. Tubular steel
FHPVR-10K-35D
35 ft.
$16,990.00
Tongue: Cold Formed
Frame: 14 in. x 22 ppf. Pierced i-beam, with torque tube
Crosspiece: 3 in. Channel
Centers: 16 in.
Side Rail: 6 in. Channel
Ramp Runners: 3 in. x 4 in. Tubular steel