38,000 GVWR Paver Flatbed Trailer – 30 ft. – Deluxe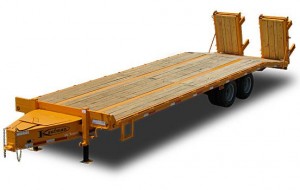 $20,990.00 Factory Direct Plus FET
Our heavy duty 38,000 GVWR Paver Flatbed Trailer has 24 ft. of flatbed and 6 ft. of dovetail. The frame on this model upgrades from 14″ I Beam at 22 ppf. to 14″ I Beam at 26 ppf. The tongue is cold formed in a hydraulic press. The pierced cross members on 16″ Centers upgrade from 3″ to 4″ Channel. The outer rails upgrade from 6″ channel to 8″ channel. You can take your choice of stake pockets with rubrail, or heavy duty 1″ bent D-Rings instead – for no cost difference. With stake pockets and rubrail – the flat side of the channel is turned out. If you choose D-Rings – the C part of the channel is turned out. Axles are two 15,000 lb. Dexter oil-bath electric brake dual axles, with Hutchens style heavy duty slipper spring suspension, and 17.5 Load Range H radial tires. Our spring loaded 9 ft. bi-fold ramps are standard. These ramps are rated for a paving machine up to 20,000lbs. total weight. For any machine that weighs more than that (including rollers) the 8 ft. hydraulic ramps are a required option. Dual heavy duty jacks upgrade to two speed 25,000 lb. each capacity units. A US made sealed modular wiring harness with lifetime LED lights makes this heavy duty 38,000 GVWR Paver Flatbed Trailer a great choice for the paving contractor when an electric brake axle trailer is needed.
Kaufman Trailers expert customer service team can help you order a 38,000 GVWR Paver Flatbed Trailer!
TRAILER IS SHOWN IN OPTIONAL YELLOW.
CALL CUSTOMER SERVICE WITH QUESTIONS: 866-455-7444
Specifications
| | |
| --- | --- |
| G.V.W.R. | 38,000 lb. |
| Electrical | Sealed modular wiring harness with LED lights |
| Frame | 14 in. Pierced i-beam, 26 ppf., with 4 in. crossmembers 16 in. o.c. |
| Dovetail | 6 ft. Wood dove |
| Upper Deck | N/A |
| Side Rail | 8 in. Channel |
| Tongue | Cold formed |
| Tires | 215/75 R17.5 LRH |
| Floors | 2 in. Treated Wood |
| Coupler | Adjustable pintle eye |
| Safety Chains | Heavy duty safety chains |
| Ramps | Heavy duty bi-fold ramps, 9 ft. extended, with spring assist (20k capacity) |
| Tie Downs | Stake pockets and Rubrail OR 1" Bent D Rings |
| | |
| --- | --- |
| Deck Length | 30 ft. (24 ft. flat + 6 ft. dove) |
| Deck Height | 37 in. with side steps |
| Deck Width | Maximum 102 in. |
| Fenders | N/A |
| Lower Deck | N/A |
| Brakes | All wheel electric brakes |
| Tailgate | N/A |
| Wheels | Heavy duty bud style dual wheels |
| Jack | Dual 25,000 lb. Each - Two Speed |
| Axles | 2-15,000 lb. Oil bath axles |
| Suspension | Heavy Duty Hutchens Style Suspension |
| Toolbox | Chain box with lockable lid |
| Finish | Primed, 2 coats of automotive grade enamel, pin striped |
Additional Options
| | |
| --- | --- |
| Spare tire and rim | $400.00 |
| | |
| --- | --- |
| Torque tube - Required on 35ft. | $100.00 |
| Self-contained hydraulic ramps, with sizes up to 34.5 in. x 96 in. for wood lined. And up to 33 in. x 96 in. for self-cleaning and cleated ramps | $3,400.00 |
Additional Lengths
Product Number
Length
Price
Additional Info
FHPVR-2/15K-30D
30 ft.
$20,990.00
Tongue: Cold Formed
Frame: 14 in. x 26 ppf. Pierced i-beam
Crosspiece: 4 in. Channel
Centers: 16 in.
Side Rail: 8 in. Channel
Ramp Runners: 3 in. x 4 in. Tubular steel on Bi-Fold Ramps - 8" Channel on Hydraulic Ramps
FHPVR-2/15K-35D
35 ft.
$21,990.00
Tongue: Cold Formed
Frame: 14 in. x 26 ppf. Pierced i-beam
Crosspiece: 4 in. Channel
Centers: 16 in.
Side Rail: 8 in. Channel
Ramp Runners: 3 in. x 4 in. Tubular steel on Bi-Fold Ramps - 8" Channel on Hydraulic Ramps