Kaufman Trailers is now a full stocking dealer of Skid Steer Attachments that are supplied to us by American Attachments company. Three different product grade levels are available: Standard Duty, Heavy Duty, and Super Duty. For small to medium horsepower machines Standard Duty products are designed to get the job done for the occasional user at a competitive price. For medium to large horsepower skids steers, we offer Heavy Duty products that are built with thicker, heavier materials. Our Heavy Duty line is great for the professional landscaper or contractor. We spare no expense on our Super Duty skid steer attachments. These products incorporate the best parts and materials to stand up to the wear and tear from today's high powered skid steer or compact track loader.
American Attachments are available for pick up at our central North Carolina and Nebraska locations. Please call 1-866-455-7444 and ask to speak to a sales representative to learn more about our skid steer attachments. If we are too far for you to pick up, please keep in mind that we can ship any attachments by pallet freight on common carrier. We do not have any price gimmicks – all prices are listed on the product pages.
Some of our more popular product categories include:
Brush cutters – Clear those stubborn, overgrown lots with our versatile brush cutters. Mounted to the proper machine, our Super Duty brush cutter, with it's high flow motor and AR400 cutting blades, will chew down saplings up to 6″ in diameter.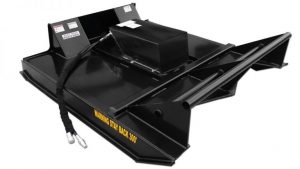 Root Grapples, Grapple Rakes, and Grapple Buckets – We stock them all! The perfect tool for handling brush, loading construction debris, or clearing rocks and roots when putting in a new yard. The grapple arms add efficiency and productivity to the process.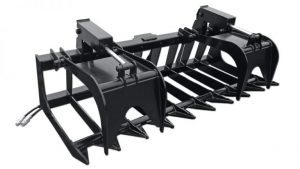 Pallet Forks – A must have for every machine to handle palletized materials. Perfect for the landscaper or contractor.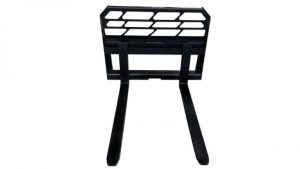 Buckets – We offer every type of bucket for machines from small to large. This includes low profile and long bottom buckets with smooth cutting edge or teeth, as well as high cubic volume snow and litter buckets.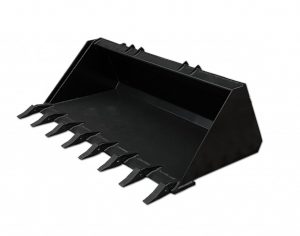 Snow Plows and Snow Pushers – For clearing driveways or parking lots we carry snow plows as well as now pushers. You can adjust the angle of the snow plow from inside the cab for pushing snow off to the left or right. Plows are available in 72, 84, 96, 108, or 120 inches. Snow pushers will collect a large volume of snow in front of your machine. Pushers are ideal for clearing parking lots where the snow must be carried to the end of the lot instead of pushed off to one side like a driveway.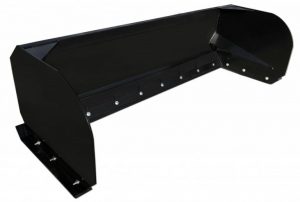 Contact Us Today For Skid Steer Attachments
Our sales representatives can help you select the perfect utility trailer for your hauling needs. Our trailers have no dealer mark-up, and can be delivered factory-direct anywhere in the continental US. Call 866-455-7444 today!