Deluxe Landscape Utility Trailer 8000 GVWR – 18 ft.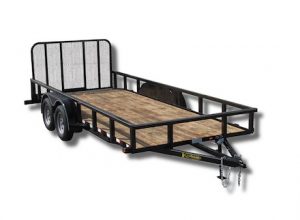 $4,890.00 Factory Direct
Kaufman's Deluxe Landscape Utility Trailer 8000 GVWR adds premium components in this deluxe package deal. Axles upgrade to 8,000 lb. capacity with an 8-ply rating radial tire upgrade. Our standard frame is the heaviest in the industry! It features 3″x3″ angle frame runners with 2.5″x2.5″ square tubing uprights and top rails. The tongue is a 4″ channel wrap around. A fixed 2 5/16 A-frame coupler, swing up jack, stake pocket tie downs, heavy duty diamond plate fenders, four wheel brakes, and new wheels with radial tires are all standard.  Wiring upgrades to a sealed modular US made wiring harness with lifetime LED lights. The lights are in an enclosed tubing tailboard that adds protection to the lights and wiring. The treated wood floor has a dovetail and the spring assist gate makes loading your landscape equipment easy on this Deluxe Landscape Utility Trailer 8000 GVWR.
Contact our customer service team today to find out how easy it is to have your own Utility Trailer delivered direct to your door.
Only available from NC plant.
CALL CUSTOMER SERVICE WITH QUESTIONS: 866-455-7444
Specifications
| | |
| --- | --- |
| G.V.W.R. | 8,000 lb. |
| Electrical | DOT approved lighting, US made sealed wiring harness, LED lights |
| Frame | 3 in. x 3 in. x 3/16 in. angle frame and 2.5 in. x 2.5 in. square tubing top rail |
| Dovetail | 2 ft. Dove |
| Upper Deck | N/A |
| Side Rail | N/A |
| Tongue | 4 in. Channel wrap around |
| Tires | 225/75 R15 2540 lbs. |
| Floors | 2 in. Treated Wood |
| Coupler | 2 5/16 A-frame coupler |
| Safety Chains | Heavy duty safety chains |
| Ramps | N/A |
| Tie Downs | Stakepockets |
| | |
| --- | --- |
| Deck Length | 18 ft. |
| Deck Height | 19 in. |
| Deck Width | 82 in. |
| Fenders | Heavy duty diamond plate fenders |
| Lower Deck | N/A |
| Brakes | 4-wheel brakes |
| Tailgate | 4 ft. Removeable expanded metal tailgate with spring assist |
| Wheels | Silver or white mod (Based on stock) |
| Jack | Swing up jack |
| Axles | 2-4,000 lb. e-z lube axles |
| Suspension | Double eye springs |
| Toolbox | N/A |
| Finish | Primed, 2 coats of automotive grade enamel, pin striped |
Additional Options
| | |
| --- | --- |
| Spare tire and rim | $180.00 |
| 16 in. mesh sides price is for 18 ft. trailer. Price increases per 2 ft. of trailer length. Call for Price. | $600.00 |
| 24 in. mesh sides price is for 18 ft. trailer. Price increases per 2 ft. of trailer length. Call for Price. | $1000.00 |
| | |
| --- | --- |
| Gas can rack | $80.00 |
| Back-pack blower rack | $80.00 |
| "STIHL" style blower rack | $80.00 |
| Water cooler rack | $80.00 |
| Hand tool rack | $100.00 |
| 3-level weed-eater rack | $150.00 |
| Side gate | $250.00 |
| Mesh landscaper toolbox | $500.00 |
Additional Lengths
Product Number
Length
Price
Additional Info
FB-4K-16D
16 ft.
$4,880.00
Tongue: 4 in. Channel
Frame: 3 in. x 3 in. x 3/16 in. angle
Crosspiece: 3 in. channel
Centers: 24 in.
Top Rail: 2.5 in. x 2.5 in. square tubing
Ramp Runners: 2 in. x 2 in. square tubing
FB-4K-18D
18 ft.
$4,890.00
Tongue: 4 in. Channel
Frame: 3 in. x 3 in. x 3/16 in. angle
Crosspiece: 3 in. channel
Centers: 24 in.
Top Rail: 2.5 in. x 2.5 in. square tubing
Ramp Runners: 2 in. x 2 in. square tubing
FB-4K-20D
20 ft.
$5,090.00
Tongue: 4 in. Channel
Tongue: 4 in. Channel
Frame: 3 in. x 3 in. x 3/16 in. angle
Crosspiece: 3 in. channel
Centers: 24 in.
Top Rail: 2.5 in. x 2.5 in. square tubing
Ramp Runners: 2 in. x 2 in. square tubing