Sealed Wiring Harness Option
If you're in the market for a new trailer, you know there are a variety of options when it comes to features and accessories. One of those has to do with the trailer wiring harness.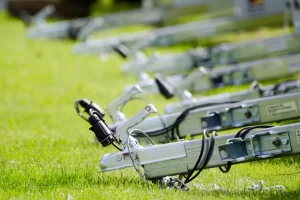 When you're talking about the trailer wiring harness, you can choose from a sealed wiring harness or a standard wiring harness. We're going to explain the differences so you can make an educated decision on your purchase. We'll also answer some frequently asked questions about trailer wiring and let you know how Kaufman Trailers can help you with your purchase. Because all in all, wiring harnesses are important when you are towing an equipment trailer or any trailer for that matter.
Sealed Wiring Harness vs. Standard Wiring Harness
A standard wiring harness consists of three plastic-coated wires in a plastic sheath. The finishers pull these off a big reel, string through the wire holders under the trailer, and then use butt connectors to the lights. It's important to note that this system is not covered under warranty.
When you're looking at the sealed wiring harness option at Kaufman Trailers, this is one that is a pre-manufactured unit made by Sealco. It uses a heavier gauge wire and has a heavy-duty rubber coating with plug-in connections that are sealed against moisture, dirt, and corrosion. Sealco Manufacturing offers a one-year warranty on these systems.
Benefits of Sealed Wiring Harness
Many people find that the sealed wiring harness is the easiest trailer wiring option for the many benefits it has. These include:
Protection against corrosion, moisture, and dirt

Wire protection from the weather

The lifespan of your wiring harness is longer because it's protected.

Sealing wiring harnesses often come with warranties.

Color-coded for easy verification
Drawbacks of Sealed Wiring Harness
While there are many benefits to using a sealed wiring harness for your trailer, there are also several drawbacks. Here are some things to consider:
Cannot see the wires if there is an issue

Have to cut into the sheath to get to the wires
Ultimately, you need to decide whether the benefits of having your wiring sealed (protection from weather, moisture, etc.) outweigh the disadvantages of not being able to see the wires when there is a problem. If you don't foresee this being a major issue, then you would want to proceed with the sealed wiring harness option.
3 Trailer Wiring Harness Options
When we're talking about wiring harnesses, there are 3 options to choose from:
Custom Wiring

Splice-in Wiring

Replacement Plugs and Sockets
Custom-Wiring
A custom-wiring harness is a vehicle-specific harness that plugs in without any splicing required. It will provide a standard connector output as well. This is the optimal solution when you want to install trailer light wiring on your vehicle.
Splice-in Wiring
Taillight converter splice-in wiring is another option if custom wiring is not available for your make and model. This connection splices into your vehicle to provide a standard trailer plug wiring connector.
Replacement Plugs and Sockets
Finally, you can use a replacement plug and socket if the trailer plug wiring on your vehicle or trailer isn't working or is damaged. Plugs and sockets can be spliced into our existing trailer plug wiring.
FAQ Regarding Wiring Harness and Towing
Q: Can you tow a vehicle without a wiring harness?
A: No. Any vehicle that tows a trailer, such as a car trailer needs a trailer wiring harness. This safely connects the taillights, turn signals, brake lights, and other electrical systems.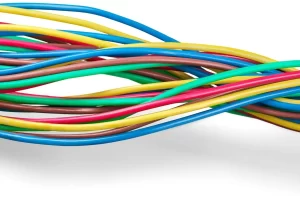 Q: What is the wiring harness for on a trailer?
A: It connects the brake lights, tail lights, and other electrical systems to ensure your trailer is compliant with safety regulations and highway expectations. It is the safest way to make sure your trailer is towing vehicles properly.
Q: What do the different colors on the wiring harness mean?
A: When you're talking about a trailer wiring harness, four-way wiring is common and most suitable for light-duty trailers. There are four different color wires here, green, yellow, white, and brown. The white wire is the ground wire and the brown wire is for the trailer's tail lights.
If there is a five-way wiring system, there is an added blue light for the brakes. This is typically for surge brakes that are built into a trailer or camper.
Six-way wiring includes a wire that is used for a fuse block or a fused battery lead. These are common on horse trailers and used to run a fan. There is also seven-way wiring that allows for connections such as hydraulic couplers.
Q: What is the blue wire on a trailer harness?
A: The blue wire on a trailer harness is an auxiliary wire. People use this wire when they want to connect the reverse lights from the tow vehicle to the reverse lockout solenoid. This is found right behind the surge brake actuator. When this wire is connected properly, you can disengage the trailer brakes to back up the trailer without getting out of the vehicle.
Q: How much does it cost to replace a trailer wiring harness?
A: The cost of the actual trailer wiring harness can cost you anywhere between $10-$50. That's only a fraction of the final price. You need to factor in labor costs which will vary depending on the installer.
Q: What causes trailer wiring harness failure?
A: If a trailer wiring harness isn't working it can be due to design mistakes, manufacturing mistakes, or poor-quality materials that were used.
If the wiring size doesn't meet the amperage and wattage demands or if the initial measurements are off, it can lead to problems such as overheating and other serious issues. There can also be manufacturing mistakes if there were incorrect settings, poor connections, or improper wire layout. Defective crimping or soldering can also be a problem.
Finally, if cheap materials were used, it can lead to trailer wiring harness failure. Always know what you're really buying and what types of materials were used to prevent any problems.
Purchase a Trailer with Sealed Wiring from Kaufman Trailers
At Kaufman Trailers you'll find that air brake trailers, open-center gooseneck trailers, and tag-a-long two-car haulers all come standard with sealed wiring harnesses. Sealed wiring is also an option on all wedges, equipment deckovers, and the 22-foot tilt trailer. To learn more about the various options available, call us today at 866-455-7444 or reach out to us online to speak to one of our knowledgeable sales representatives who will be more than happy to help you.