Deluxe 17000 GVWR Flatbed Gooseneck Trailer – 24 ft.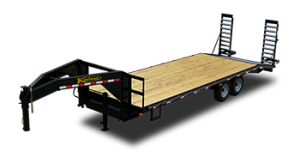 $8,890.00 Factory Direct
Kaufman Trailers Deluxe 17000 GVWR Flatbed Gooseneck Trailer features an 10″ I-beam mainframe with 3″ channel stacked cross-members on 18″ centers and 6″ outer rails. 20′ of flatbed with a 4′ dovetail and 5′ cleated swing up ramps make for easy loading of equipment. This model has beefed up ramps built with 4 in. channel ramp frame runners. Two 7,000 lb. electric brake axles with heavy duty slipper spring suspension, and radial tires provide a long lasting and durable running gear. A sealed modular wiring harness with lifetime LED lights is included for long-lasting trouble-free lighting. A heavy duty 12,000 lb. drop foot jack, stake pockets with rub rail, treated flooring, tool tray with lockable lid, and an adjustable 2 5/16″ coupler complete the package deal on our Deluxe 17000 GVWR Flatbed Gooseneck Trailer.
Kaufman Trailers expert customer service team can help with all your trailer needs.
A very popular option is our SUPER DUTY axle/tire upgrade. This includes general duty 8,000 lb. axles and load range H 17.5″ tires on heavy duty wheels. The 8,000 lb. axles feature thicker, high tensile axle beam, larger bearings, and 5/8″ studs.
**Photo shown with optional pop-up dovetail.
CALL CUSTOMER SERVICE WITH QUESTIONS: 866-455-7444
Specifications
| | |
| --- | --- |
| G.V.W.R. | 17,000 lb. 3,000 lb. hitch load |
| Electrical | Sealed modular wiring harness with LED lights |
| Frame | 10 in. I-beam, with 3 in. channel crossmembers 18 in. oncenter |
| Dovetail | 4 ft. Wood Dove |
| Upper Deck | N/A |
| Side Rail | 6 in. |
| Tongue | 10 in. I-beam gooseneck |
| Tires | 235/80 R16 LRE (3,520 lb.) |
| Floors | 2 in. Treated Wood |
| Coupler | 2-5/16 in. Adjustable ball coupler |
| Safety Chains | Heavy duty safety chains |
| Ramps | 60 in. x 18 in. Flip up ramps, with spring assist. 4 in. channel ramp runners with 2x2x3/16ths cleats. |
| Tie Downs | Stake pockets and Rubrail |
| | |
| --- | --- |
| Deck Length | 24 ft. (20 ft. flat + 4 ft. dovetail) |
| Deck Height | 35 in. With side steps standard |
| Deck Width | Maximum 102 in. |
| Fenders | N/A |
| Lower Deck | N/A |
| Brakes | All wheel electric brakes |
| Tailgate | N/A |
| Wheels | Silver or white mod (Based on stock) |
| Jack | Single 12,000 lb. drop foot jack |
| Axles | 2-7,000 lb. e-z lube axles |
| Suspension | Slipper springs |
| Toolbox | Chain box with lockable lid standard |
| Finish | Primed, 2 coats of automotive grade enamel |
Additional Options
| | |
| --- | --- |
| Spare tire and rim | $230.00 |
| Spare tire and rim (17.5 upgrade) | $400.00 |
| Load Range G (14 ply rating) all-steel radials | $500.00 |
| Load Range G (14 ply rating) all-steel radial - spare tire | $300.00 |
| Kingpin coupler | $100.00 |
| Dual 12K jacks | $140.00 |
| Dual 12K two speed jacks | $290.00 |
| Sliding track for ratchets (per foot) | $30.00 |
| 9K Winch | $1,250.00 |
| Fork holders (requires measurement information) | $200.00 |
| Sliding 4 in. ratchets (each) - requires sliding track | $30.00 |
| 6' Dovetail with 8' aluminum slide in ramps (6' Dovetail reduces flat length by 2') | $1000.00 |
| | |
| --- | --- |
| No dovetail and no ramps (Straight deck) *Special deposit required | $-99.00 |
| 4ft. Self cleaning cleated dovetail | $300.00 |
| 6ft. Self cleaning cleated dovetail (required if ordered with 6ft. lay flat ramps) | $450.00 |
| Pop-up cleated dovetail | $400.00 |
| Slide-in ramp for tri-axle tractor | $200.00 |
| Third swing up ramp | $200.00 |
| 2 - 72" Wedge shaped, lay-flat spring assist ramps (Flat length of trailer is shortened by 2ft. to make 6ft. dovetail) | $400.00 |
| 3 - 72" Wedge shaped, lay-flat spring assist ramps (Flat length of trailer is shortened by 2ft. to make 6ft. dovetail) | $700.00 |
| 2 72" Wedge shaped, lay-flat spring assist ramps WITH cleated center popup (Flat length of trailer is shortened by 2ft. to make 6ft. dovetail) | $700.00 |
| 6 ft. x 8 ft. deck on the neck | $600.00 |
| Torque tube - recommended with extra length or deck on neck | $100.00 |
| 5 ft. Heavy duty spring assist split gate (Capacity 13,000 lb. piece of equipment) | $700.00 |
| Capacity upgrade with 8,000 lb. general duty axles, and 215/75 R17.5 tires | $1,000.00 |
Additional Lengths
Product Number
Length
Price
Additional Info
FG-7K-24D
24 ft.
$8,890.00
Tongue: 10 in. I-beam
Frame: 10 in. I-beam
Crosspiece: 3 in. Channel
Centers: 18 in.
Side Rail: 6 in. flatbar
Ramp Runners: 4 in. Channel
FG-7K-26D
26 ft.
$9,390.00
Tongue: 10 in. I-beam
Frame: 10 in. I-beam
Crosspiece: 3 in. Channel
Centers: 18 in.
Side Rail: 6 in. flatbar
Ramp Runners: 4 in. Channel
FG-7K-28D
28 ft.
$9,690.00
Tongue: 10 in. I-beam
Frame: 10 in. I-beam
Crosspiece: 3 in. Channel
Centers: 18 in.
Side Rail: 6 in. flatbar
Ramp Runners: 4 in. Channel
FG-7K-30D
30 ft.
$10,690.00
Tongue: 10 in. I-beam with 12" uprights.
Frame: 12 in. I-beam @ 16 PPF
Crosspiece: 3 in. Channel
Centers: 18 in.
Side Rail: 6 in. flatbar
Ramp Runners: 4 in. Channel
FG-7K-32D
32 ft.
$11,290.00
Tongue: 10 in. I-beam with 12" uprights.
Frame: 12 in. I-beam @ 16 PPF with Torque Tube.
Crosspiece: 3 in. Channel
Centers: 18 in.
Side Rail: 6 in. flatbar
Ramp Runners: 4 in. Channel
FG-7K-36D
36 ft.
$11,690.00
Tongue: 10 in. I-beam with 12" uprights.
Frame: 12 in. I-beam @ 16 PPF with Torque Tube.
Crosspiece: 3 in. Channel
Centers: 18 in.
Side Rail: 6 in. flatbar
Ramp Runners: 4 in. Channel
FG-8K-40D - MUST GET 8K UPGRADE
40 ft.
$13,290.00
Tongue: 10 in. I-beam with 12" uprights.
Frame: 12 in. I-beam @ 16 PPF with Torque Tube.
Crosspiece: 3 in. Channel
Centers: 18 in.
Side Rail: 6 in. flatbar
Ramp Runners: 4 in. Channel