Happy Thanksgiving from Kaufman Trailers!
Each year on the day before Thanksgiving, the employees of Kaufman Trailers are treated to a Thanksgiving Bar-B-Que dinner. What a delicious meal we had today! Lexington style BBQ, scrumptious potato salad, awesome baked bean dish, yummy pies, and a frozen turkey for each employee! Thank you to the management team for your kindness today!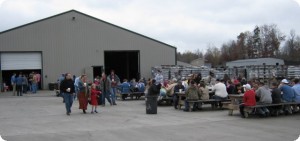 Kaufman Trailers wishes a Happy Thanksgiving to all our customers, suppliers, and business associates. The Kaufman office will be closed for the remainder of this week, and will re-open on Monday, November 30.
Follow us on Twitter for more of our company's news!