9 Questions to Ask When Buying a Trailer
Buying a trailer is a big investment so you want to be sure you are getting one that fits your needs. Kaufman Trailers has been in business since 1987 and has helped countless people narrow their options when it comes to choosing the right trailer. Knowing the right questions to ask can make the process easier and more efficient.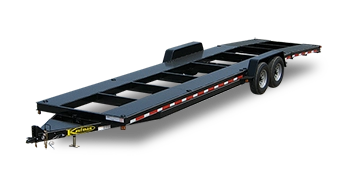 9 Questions to Ask Before Buying a Trailer
While you always want to consider your budget, there are several other factors you should keep in mind when deciding on a trailer. Here are 9 questions to ask before buying a trailer:
What Trailer Style Do You Want?
Your answer to this question will greatly narrow down your options. When you're buying a trailer from Kaufman Trailers, there's a wide variety of trailers to choose from. The list of trailers we sell includes the following:
If you're not sure which one will suit your needs, simply let us know. Our experienced team at Kaufman Trailers can review your options and help you find one that suits your needs and budget.
What is Your Budget?
As we mentioned above, another major factor in the decision-making process is your budget. While trailers can certainly get expensive, you'll also find plenty in your price range. Decide what you want to spend as you look for your ideal trailer.
Do You Have the Storage Capacity for this Trailer?
Many people don't think about the fact that they have to store the trailer when they're not using it. Depending on the size trailer you get, you're going to need to have the space to dedicate to storing it. Consider where you're going to store your trailer and if that space is large enough. If you don't have the room, you may want to consider a smaller trailer.
What Type of Braking Power Do You Want?
Some trailers have electronic braking systems that can detect when you are putting pressure on the brake pedal. This signals the brakes to engage and helps to reduce the wear and tear on your vehicle. You want to check the braking power on any trailer you are considering, especially if you are transporting liquids because your trailer will need to brake quickly and safely when necessary.
What Will the Trailer be Used For?
The answer to this question lets the salesperson know which type of trailer to look at first: car hauler, equipment, or landscape. Most trailers are designed for a specific job, and while some may seem multi-purpose, this is not always the case. Some trailers are designed for heavy equipment, or lawn care equipment, while others are best suited for furniture, multiple vehicles, and more.
What Can be Loaded Onto a Car Trailer?
If you're looking for a car trailer, certain types of equipment should not be loaded onto a car trailer. Some vehicles may also be too long to fit on an equipment trailer. This is due to the ramp system each trailer has. A heavy skid loader may bend the slide-in ramps used on a car hauler, while the equipment-style stand-up ramps will not allow a long vehicle to extend past the back of the equipment trailer.
What Type of Towing Vehicle Do You Have?
When choosing your trailer, you should keep in mind the type of tow vehicle you have (i.e. standard pickup truck, an SUV, etc.) or intend to rent. It is important to choose a trailer that is compatible with your tow vehicle.
As a general rule of thumb, most full-size ½ ton pickup trucks are capable of pulling a one-car trailer. Most ¾ ton pickups can pull two cars. A 1 ½ ton truck is typically able to tow a full load on our five-car double-deck trailer. As mentioned above, the Max six-car trailer typically required a Class 8 or a tandem full-size road tractor.
Above all, selecting a trailer that fits your towing capacity ensures you and your load will make it to your destination safely.
How Much Does the Trailer Weigh?
Many of our smaller fender trailers are available with five different axle sizes (capacities). For the salesperson to recommend the correct axle size, they must know the approximate weight you want to tow/haul. A trailer with a 9,990 Gross Vehicle Weight Rating (GVWR) is only rated to haul 7,200 lbs. This is because the trailer itself is included in the GVWR. If your machine weighs 9,500 lbs., then it would be necessary to have a trailer rated for 12,000 lbs. GVWR. This question is also imperative to answer when shopping for a large air brake trailer.
What type of pull are you looking for? Gooseneck or Tag-a-Long?
This question also directs the salesperson to the correct trailer model to discuss with the customer. Gooseneck trailers are more stable due to how they hitch to your vehicle. Rather than straining your bumper, gooseneck trailers attach to the rear axle. Almost all of our trailers may be built with a gooseneck connection if that is what the customer prefers.
Choose Kaufman Trailers for Your Trailer Purchase
If you're shopping for a new trailer, Kaufman Trailers is here to help you find the perfect one. For over 30 years, Kaufman Trailers has been a leader in the trailer industry. Our friendly and knowledgeable staff is here to answer your questions and point you in the right direction. Call us today at 866-455-7444 to learn more about our inventory and find a trailer that is perfect for you!