Car Hauler Business: Safety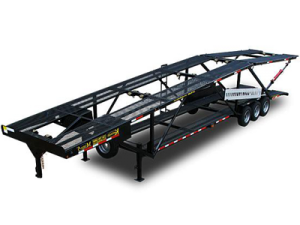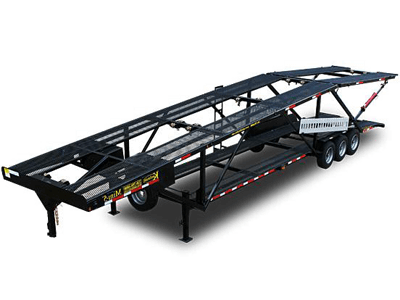 As discussed in a previous post, the number one goal of car hauling is to make sure that things are above-board and legal.  The number two priority is safety of operation.  There is no way to cover every situation where safety is a factor, but here are some basic principles to consider.
Car Hauler Vehicle Inspection
Every single time the trailer is connected to the tow vehicle be sure to perform a final inspection of the hitch, safety chains, and electrical connector.  It is so easy to get distracted while hitching, and forget some small item.  This practice goes for any type of trailer being pulled.  Check the tire pressure on a weekly basis.  The trailer suspension should be inspected at least once a month.  Always keep an eye on the trailer lights to make sure they are working.  Inspect the trailer frame for stress cracks.  Be sure to put the ramps back in the trailer after loading vehicles.
Car Hauler Load Positioning
Many trailer accidents have occurred because the payload was not positioned correctly.  This is especially important when using a wedge car hauler.  If only one car is being hauled, make sure it is placed right above the front trailer axle.  The goal here is to maintain an approximate 30% tongue weight.  Loading a single car at the very front of the trailer will significantly increase the roll-over risk.   Caution must also be used when loading or unloading the Kaufman trailer.  If at all possible, make sure the trailer is on a solid level surface when trying to load a car.  This will minimize the possibility of the car sliding sideways off the loading ramps or trailer deck.
Car Hauler Driving Habits
There should be no excuse for liability that stems from careless driving.  A piece of equipment is no better (or safer) than the person operating it.  When pulling a fully loaded trailer, be sure to increase following distance which will give more time to stop a heavy load.  Use discretion on when to use a cell phone while driving.  Get clear directions ahead of time to avoid impulsive u-turns or lane changes.  Always keep the windshield clean, and adjust your speed according to the weather (rain, fog, snow).  Many car trailers have a lengthy deck behind the axles which results in significant tailswing.  Caution must be used when making turns near a building, parked cars, or other obstacles to make sure the tail of the trailer does not hit something.
Be sure to visit and like our Facebook Page!