Trailers for Sale in Oregon
When shopping for a trailer in Oregon, turn to Kaufman Trailers. For 35 years and counting, Kaufman Trailers has been manufacturing and distributing quality trailers across the nation. We produce durable, long-lasting trailers for all types of hauling jobs – from construction projects to personal use car trailers. Browse our diverse product range online today and find a trailer that best suits your needs at a price you can afford.
Choosing an Open Trailer in Oregon
Our comprehensive line of open trailers, including gooseneck trailers and utility trailers, is available in all several styles. Browse our inventory and you'll notice that most of our product models are available in standard or deluxe models, with the deluxe model being the most popular option due to its added features for a discounted price. If you're not sure exactly which trailer or model to choose, you may reach out to our team anytime at 866-455-7444 for assistance. We'll be happy to speak with you and point you in the right direction!
Ordering a Trailer in Oregon
At Kaufman Trailers, we pride ourselves on selling trailers at an affordable price without sacrificing the quality or durability you expect. When you purchase a trailer from Kaufman Trailers, you'll never experience a dealer markup fee. Once you choose your trailer, you'll see transparent pricing and a simple, streamlined ordering process.
Most of the Kaufman Trailers sold to customers in the state of Oregon will be built in our Nebraska plant, but it is important to keep in mind that the model you purchased may not be available at the Nebraska plant, so we encourage you to speak with a member of our team to find the exact trailer you want. Bear in mind that Kaufman Trailers has manufacturing plants across the nation and our team can coordinate with another plant facility to ship your trailer to either the Nebraska plant for pick-up or to your location in Oregon.
Detachable Gooseneck Trailers in Oregon
Kaufman Trailers is especially proud of our detachable gooseneck trailer line. With a hauling capacity of up to 55 tons, this gooseneck trailer is fit for the heaviest of hauling jobs you can imagine. You'll notice we manufacture a line of gooseneck trailers specifically for construction projects, plus, we have curated a line of trailers that are suited to fit the needs of commercial projects and gooseneck trailers for agricultural jobs.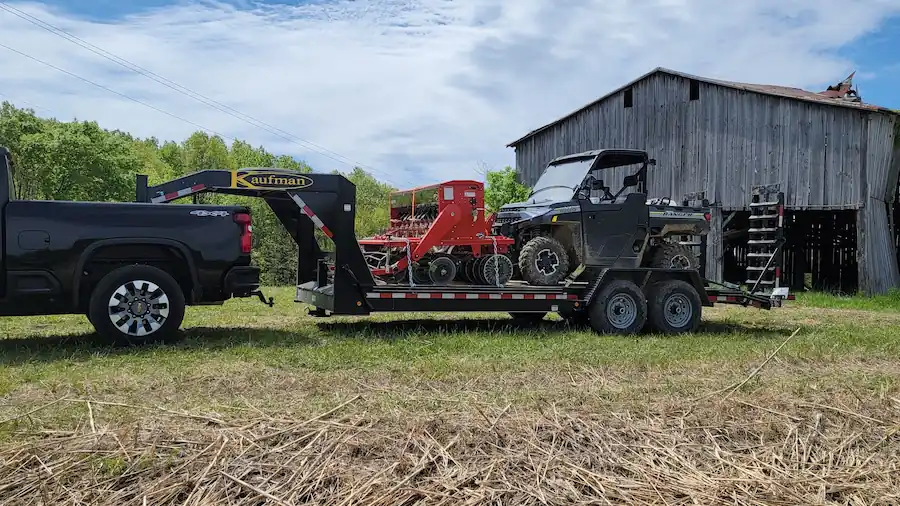 Equipment Trailers in Oregon
We manufacture a full line of equipment trailers built at our Nebraska plant, that can be picked up or shipped on our shared freight loads to Oregon. Contractors and construction companies have come to rely on Kaufman Trailers for durable equipment trailers to haul skid steers, mini excavators, trenchers, and other machinery that is required to get the job complete.
Car Trailers for Sale in Oregon
Our all-encompassing range of car trailers showcases car trailers that are equipped to haul one car, three cars, five cars, or six cars at once. Depending on your hauling needs, you can choose a car trailer that has the capacity you need. Car dealerships, for example, tend to purchase a 6-car hauler while individuals or families may purchase a wedge car hauler. Regardless of the car trailer you choose, you're sure to come home with a trailer that is built to last.
Flatbed Trailers for Sale in Oregon
Kaufman Trailer's complete product line of deckover flatbed trailers provides suitable stability when hauling. We have designed and manufactured six different styles of flatbed trailers for sale in Oregon, including our popular Air Brake Pintle Flatbed trailer. Depending on your needs, you can choose between spring-assisted and hydraulically lifted ramps which lift and lower ramps with the push of a button.
Gooseneck Trailers for Sale in Oregon
Last but not least, Kaufman Trailers proudly manufactures gooseneck trailers in six different configurations. Due to different styles and their versatility, our gooseneck trailers are arguably the most practical trailer you can purchase. Choose from deckover gooseneck trailers, flatbed-style gooseneck trailers, gooseneck car haulers, gooseneck equipment tilt trailers, and more!
Contact Kaufman Trailers in Oregon Today
Whether you are looking for a trailer that is small or large and comes with deluxe features or standard ones, turn to Kaufman Trailers. We deliver open trailers across Oregon, including Portland, Salem, Eugene, Hillsboro, Bend, and Gresham. Talk to a sales representative today by calling 866-455-7444 or filling out our contact form to purchase your new trailer.