Trailers for Sale in Texas
When you're looking for open trailers in Texas, Kaufman Trailers is here to help you get exactly what you need. With over 35 years of experience manufacturing and distributing quality Kaufman Trailers, we are here to prioritize our customers. 
We produce long-lasting, durable trailers for all types of hauling tasks ranging from light-duty utility trailers to heavy-haul detachable gooseneck trailers and car haulers. With our diverse selection, we can help you find a trailer you love at an affordable price.
Choosing an Open Trailer
Make sure you get the best trailer for your needs with our convenient selection of open trailers. With different product models and feature levels, you can choose what's right for you without having to spend more than necessary. If assistance is needed when selecting a model, reach out to one of our friendly representatives who are here to help!
Ordering Your Open Trailer in Texas
At Kaufman Trailers, we work hard to keep costs low without sacrificing quality workmanship. Since we are the manufacturer, we never add on dealer markups. Once you choose your trailer, you'll see transparent pricing and a simple, streamlined ordering process.  
Although we have pickup locations in North Carolina, South Carolina, and Nebraska, most of the Kaufman Trailers sold to customers in the state of Texas will be built in our Nebraska plant. Not all models that we manufacture are produced in Nebraska – so contact one of our sales reps at 866-455-7444 to check availability for the model you are looking for.
Alternatively, we can ship your trailer with other trailers on the same load to your location in Texas at a low delivery cost. Call our team today at 866-455-7444 to order or request a delivery cost quote.
Detachable Gooseneck Trailers for Sale in Texas
Kaufman Trailers is proud of our detachable gooseneck trailer line. With a hauling capacity of up to 55 tons, our gooseneck trailers are suitable for the heaviest of hauling jobs. When browsing our online inventory, you'll notice we manufacture a distinct line of gooseneck trailers for construction projects. In addition, we have a designated line of trailers that are suited to fit the needs of commercial projects and agricultural jobs.
Car Trailers for Sale in Texas
Our range of car trailers is equipped to haul up to six cars at once. For instance, car dealerships, typically purchase a 6-car hauler to transport the maximum number of vehicles at once. On the other hand, individuals or families may purchase a single-car hauler if they only need to transport one car. Regardless of the car trailer you choose, you're guaranteed to come home with a reliable trailer.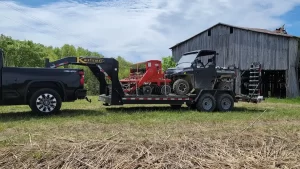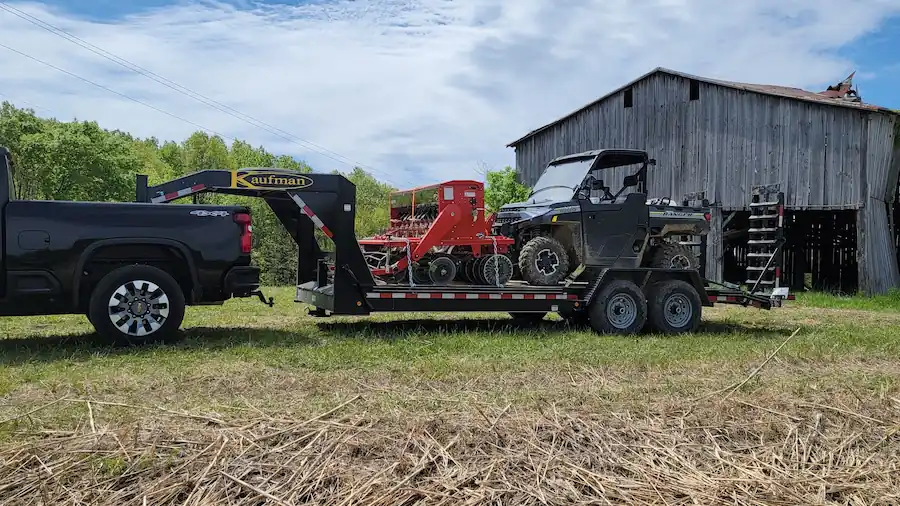 Equipment Trailers for Sale in Texas
We manufacture a full line of equipment trailers built at our Nebraska plant, that can be picked up or shipped on our shared freight loads to multiple cities in Texas. Contract workers and construction crews use our durable equipment trailers to haul skid steers and mini excavators to complete the job efficiently and timely. 
Flatbed Trailers for Sale in Texas
Last but not least, Kaufman Trailers offers deckover flatbed trailers that provide plenty of stability when hauling down country roads and interstates. We have designed and manufactured six different styles of flatbed trailers for sale in Texas. Based on your preference, you can choose spring-assisted or hydraulically lifted ramps. Kaufman Trailers is partial to the hydraulic ramps since you can lift and lower ramps with the push of a button.
Contact Kaufman Trailers in Texas Today
We are here to help you find the trailer you need in Texas. The team at Kaufman Trailers is ready to answer your questions. We deliver open trailers across Texas, including Dallas, Houston, San Antonio, Austin, Brownsville, and the Rio Grande Valley. Call us today at 866-455-7444.