Trailers for Sale in Utah
When shopping for a trailer in Utah, we encourage you to check out Kaufman Trailers. For 35 years and counting, we have been manufacturing and distributing quality trailers across the United States. Although we are proud to offer trailers to most states, we are equally as proud to be a family-owned and operated business. Whether you need a trailer for a landscaping project or a car hauler for family use, Kaufman Trailers can get you the trailer you need at an affordable price.
Buy an Open Trailer in Utah
Our comprehensive line of open trailers, including gooseneck trailers, utility trailers, and more are available in all numerous configurations. The deluxe model version is the most popular choice due to its additional features. If you're not entirely sure which trailer or model is right for you, please reach out to our sales representatives at 866-455-7444 for assistance. They will be happy to speak with you and point you in the right direction.
Ordering Your Open Trailer in Utah
At Kaufman Trailers, we are passionate about providing the quality workmanship and durability you need without any added costs. We manufacture our own products and sell them directly to you with no dealer or middleman. On top of that, transparent pricing makes for a simple ordering process that doesn't involve hidden fees or markups. You can pickup your trailer in Beaver City, Nebraska or choose to have it shipped to a city nearest you in Utah.
Detachable Gooseneck Trailers for Sale in Utah
Our detachable gooseneck trailer line is equipped with a hauling capacity of up to 55 tons. In other words, it is fit for the heaviest of hauling jobs you throw at it. Within our gooseneck trailer product line, we have specifically designed trailers that can tackle a range of jobs, including but not limited to construction projects, commercial projects and agricultural jobs.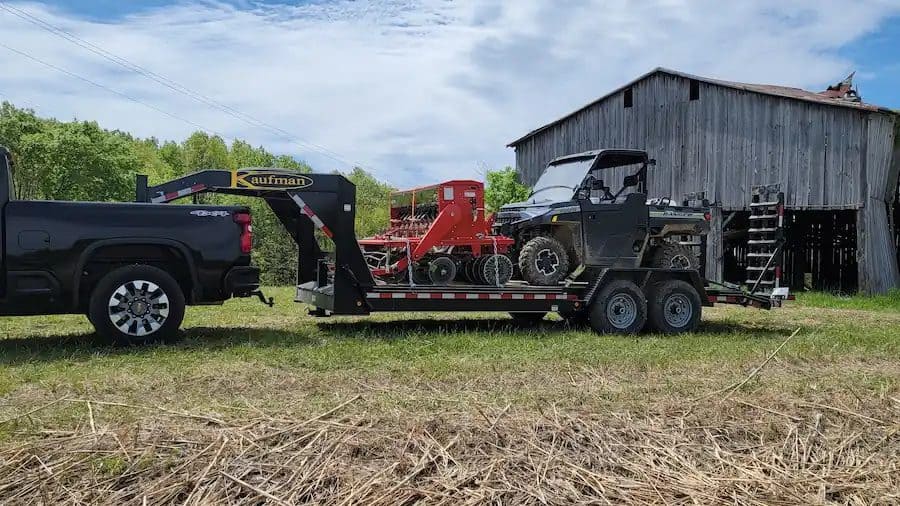 Equipment Trailers for Sale in Utah
We manufacture a full line of equipment trailers that can be picked up at our Nebraska plant or shipped on our shared freight loads to Utah. Contract workers and construction crews heavily rely on our equipment trailers to transport skid steers, mini excavators, trenchers, and other machinery to and from job sites.
Car Trailers for Sale in Utah
Our extensive line of car haulers has been designed to haul one single car, 6 cars, and anything in between. Car dealerships, for instance, will purchase a 6-car hauler while individuals who have small hauling needs may purchase a wedge car hauler. Regardless of the car trailer you choose, you're sure to bring home a trailer that is lightweight and built to last.
Flatbed Trailers for Sale in Utah
Our flatbed trailers are designed to be stable so you can haul your trailer from one location to another with ease. With six different styles of flatbed trailers to choose from in Utah, including our popular Air Brake Pintle Flatbed trailer, you're certain to select a flatbed trailer that works tirelessly to meet your needs. As for loading and unloading, you can choose between spring-assisted and hydraulically lifted ramps. Many trailer owners tend to opt for hydraulic ramps because the ramps are lifted and lowered with the push of a button.
Gooseneck Trailers for Sale in Utah
Last but not least, Kaufman Trailers offers six convenient styles of gooseneck trailers for sale in Utah. Due to their versatility and weight capacity, our gooseneck trailers are arguably the most practical trailer you can purchase. Additionally, our gooseneck trailers are equipped to transport heavy loads with ease.
Contact Kaufman Trailers in Utah Today
If you are looking for a durable, long-lasting trailer with customizable features, explore our product line today. We deliver trailers to several cities across Utah, including Salt Lake City, West Valley City, West Jordan, Provo, Orem, and St. George. To order your trailer or request more information, you may speak to one of our reliable sales reps at 866-455-7444. We look forward to getting you the trailer you need.