New Ram Pickup & Kaufman Gooseneck Trailer
See the Kaufman Gooseneck Flatbed Trailer featured with the new Dodge Ram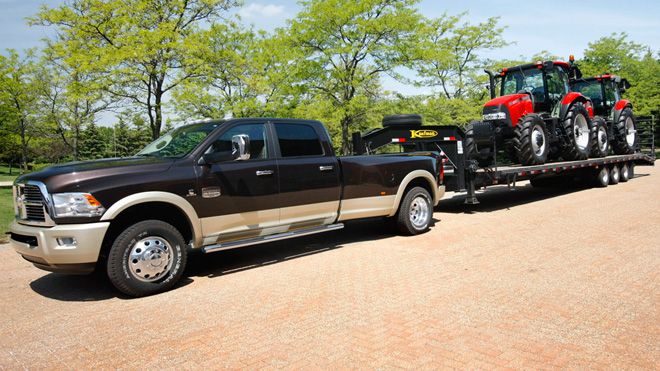 "And you thought tug-of-war was just for kids.
Ram has announced that its 2013 3500 HD pickup will come with the highest tow rating in the class…ever. And by a long shot.
Ram says the redesigned hauler can pull up to 30,010 pounds, more than enough for a Kaufman Trailer. Its closest competitors, the Chevy Silverado 3500 HD and Ford F-350 max out at 23,100 and 22,800 pounds, respectively. That's like pitting the Hulk against Bruce Banner.
The new Ram pulls this off with an updated 6.7-liter Cummins diesel engine that pumps out a class leading 850 lb-ft of torque, a transmission designed for increased loads, high strength steel frame, heavy duty suspension and improved cooling systems for every drivetrain component.
One unique feature is the Ram Active Air intake system, which can draw cool air from a vent in the front of the vehicle when temperatures rise, or shut that off and use warm air from under the hood in cold conditions. It can also use both to breathe in high altitude environments where more oxygen is needed for combustion.
Pricing for the new 3500 HD has not been announced, but production is set to begin later this month."
See more Flatbed Trailers.