What are the Differences Between Skid Steer and Equipment Trailers?
Things can get tricky regarding trailer terminology, especially when you're talking about skid steer and equipment trailers. Part of the problem is that each manufacturer uses the same terms, but applies different meanings to each one because there is no universal naming convention among all manufacturers.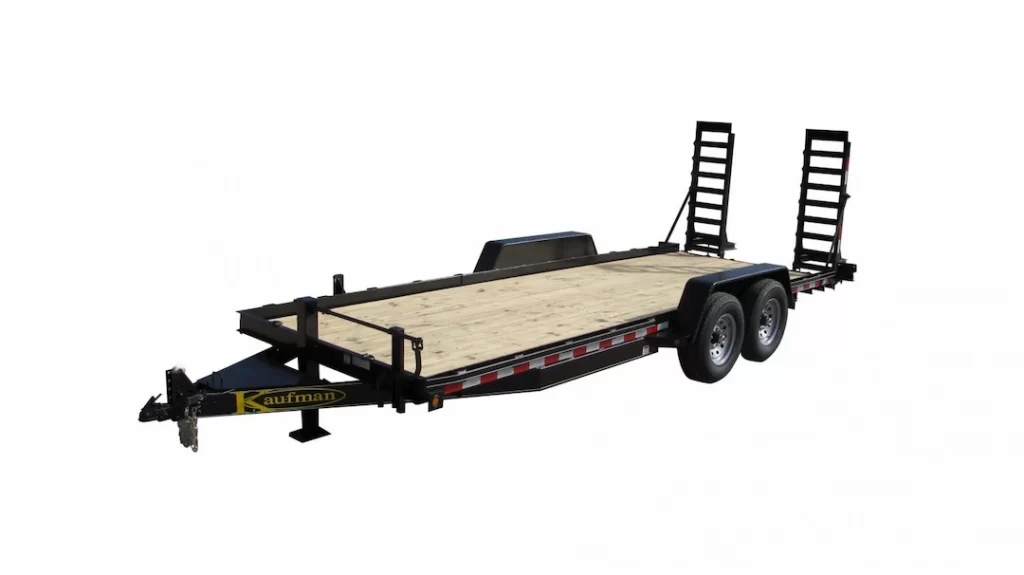 Some manufacturers use the term "equipment trailer" to describe anything that hauls equipment, while others refer to "equipment trailers" as a specific style of trailer.
At Kaufman Trailers, we aim to eliminate confusion and make things easier for customers like you. That's why we use the term equipment trailer to describe any trailer that is used to haul equipment. 
Keeping that in mind, we're going to take a look at how skid steer and equipment trailers are the same as well as some key differences you should be aware of before deciding which one to purchase.
Standard Equipment Trailers
Standard equipment trailers have a floor that is even with the top of the frame. This allows for the easy side loading of palletized material. All standard equipment trailer models have a dovetail with cleated, swing-up loading ramps to help in easy loading of your equipment. At Kaufman Trailers we offer equipment trailers in standard and deluxe versions, each with different features.
Skid Steer Trailers
Skid Steer Trailers are built specifically for loading skid steers, mini excavators, or rubber-tracked loaders. The overall deck height is lower to the ground than other equipment trailer models at Kaufman Trailers. Due to this lower deck height, skid steer trailers do not need a dovetail. Deluxe skid steer trailers are built with angle iron frame runners that allow the floor to be set down in the frame for a lower overall deck height.
How are Skid Steer and Equipment Trailers the Same?
The standard family and skid steer trailer family are two families within the equipment trailer style which closely resemble each other. They are similar in several ways:
Used to haul similar equipment

Have matching GVWRs and lengths
But there are a few key differences that can influence which one is best for your needs.
Kaufman Standard Trailers vs. Skid Steer Trailers
When you're comparing the Kaufman Standard Trailer and Skid Steer Trailers, there are several factors to consider.
Deck Height
The cross members of a skid steer trailer are made under the runners. This allows for a lower height.
Lip Around the Deck
There is a small lip on the skid steer trailers that encompasses three sides of the deck. The rear of the trailer deck does not have a lip to allow for easy loading and unloading of equipment.
Deck Width
Due to construction processes, a standard trailer has more actual decking than a skid steer trailer. For example, Kaufman's 16-foot, 10,000 lb. skid steer is 82″ width between the fenders while the standard trailer version offers 8,000 lb. and 82″ of deck width.
Capacity Models
The standard equipment trailer will include a dovetail while the skid steer with the lower deck will not require this modification.
Are You Looking for a New Trailer?
If you're looking for a new trailer and are unsure what type best suits your needs, Kaufman Trailers can help. With more than 30 years of experience in the business, we can explain the differences to you so that you can choose the right one. Call us today at 866-455-7444 or reach out to us online to speak to a sales representative.