About Flatbed Trailers – How to Pick the Right Model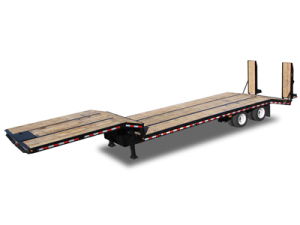 Choosing a flatbed trailer can be difficult because it's such a broadly used term within the industry. Even different companies have different definitions or limitations on what can be considered a flatbed, making it even harder to find exactly what you need. Plus, they range in size and functionality, from small, tandem axle models to 48-foot flatbeds pulled by an 18-wheeler. To help you choose the right model, we're defining what a flatbed trailer is and the features and characteristics you may be looking for.
First, we want to provide a few examples of a flatbed trailer we sell at Kaufman Trailers.  
Defining a Flatbed Trailer
Deckover Design
A deckover design means that the bed, also called a deck or platform, is over the tires. All flatbeds have this feature, from the smallest to largest models.
Often there are stake pockets with a rub rail down the outer edges, though there may be a heavy channel rail included. With a channel rail, the "c" is turned out, allowing bent d-rings installed down the length of the trailer to be used to tie down equipment.
Gooseneck Hitch
A gooseneck hitch comes up and out from the trailer with a long, curved neck, allowing it to affix to a truck or towing vehicle. Gooseneck hitch trailers fall under the flatbed classification because the deck is over the tires. 
Many Kaufman flatbeds are built with a cold formed, one-piece frame and tongue that comes together at the front of the trailer. The tongue is joined to a flat plate or an adjustable mounting rack with holes to attach either a pintle ring or ball hitch. Kaufman Trailers offers a broad range of "pintle ring hitch" models starting at 14,000 gross vehicle weight rating (the maximum amount of weight the trailer can hold and transport, also called GVWR) and going all the way up to a tri-axle airbrake model with a 62,000 GVWR.
Drop Deck Trailer
The drop deck trailer is another type of flatbed trailer, with this type made to be pulled using a semi truck and a 5th wheel that is attached to the truck. These trailers are hooked up by backing the truck with the 5th wheel plate into and under the trailer. The forcible bump of the hitch causes the king pin within the trailer's plate to snap shut and lock into a closed position around the fifth wheel. This is a highly reliable system used by nearly all over-the-road semi trailers. 
Choosing a Flatbed Frame
We match the frame and running gear of every flatbed trailer to ensure optimal compatibility of all the components. We use two types of frame construction to build our flatbeds.
Stacked Frame Construction
The cross members are welded to the top of the mainframe beams with outer rails. Then, stake pockets are welded on and then the rub rail is installed on the outside of the stake pockets.
We use this method of manufacturing with both our Standard and Deluxe version of the 14,000 GVWR flatbed trailer. The Standard has two 7,000 pound axles with an 8-inch I-beam frame while the Deluxe upgrades the frame to a 10-inch I-beam.
Pieced Beam
The pieced beam construction method is a more reliable, durable method of building a flatbed trailer, and we use it on many of our heavy-duty Deluxe flatbed trailers. This method requires the mainframe beams to be pierced to the shape of the channel crossmembers, allowing the crossmembers to slide through. Once in place, the crossmembers are welded back into one unit.
We use the pierced beam method of construction with our "pintle pull" flatbed trailers which are built with two or three 10,000 lb. electric brake axles and have a 25,900 GVWR on two axles and 38,500 lb. on three axles, and we also use it on our airbreak flatbeds that offer up to 62,000 GVWR.
Choosing the Right Type of Trailer
We understand it can be difficult to choose the right trailer for your needs, especially with so many models to choose from. Our smaller flatbeds range from 14,000 to 25,900 GVWR so these are ideal for general contractors, farms, and paving companies while our larger trailers are ideal for larger organizations and projects.
Call Kaufman Trailers Today For Your Flatbed
If you are looking for a durable, reliable flatbed trailer that improves loading and unloading, we can help. Our experienced staff will match your hauling needs to a perfect flatbed trailer. Call us today at 866-455-7444.