How to Pick the Right Car Trailer for Your Needs
Investing in a car trailer is no small purchase. So, how do you choose the right car trailer for your needs? With the diverse range of styles, models, and price ranges, choosing the right trailer that fits within your budget can seem overwhelming. To help guide your purchase, our team at Kaufman Trailers is sharing the top questions you should ask yourself before making a car trailer purchase.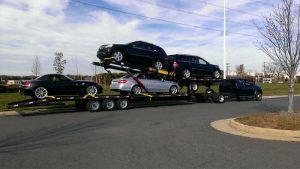 Questions to Ask Before Buying a Car Trailer
What will the trailer be used for?
Perhaps you have one specific use for your car trailer, such as transporting a single car a short distance. In this case, a single-car trailer is the best fit for you. With our basic model, you can transport up to 6,000 pounds of GVWR. This trailer is just 16 feet long which makes it easy to maneuver on the road. In addition, this trailer features a dovetail that drops 7 inches for easy loading of low-clearance cars.
If you need to transport a vehicle a long distance and need a trailer that can accommodate more weight and features a diamond floor, our standard model is most likely the best option for you. The extra 1,000 pounds of GVWR will increase your towing capacity while the extra 1 foot of length will allow for a longer car on the trailer. This model features a full diamond floor with a dovetail with slide-in loading ramps and D-rings that make loading easy.
Another option for single-car trailers is our deluxe model with comes with all the features of the standard model plus LED lights with a sealed modular wiring harness and is available in 7,000, 8,000, and 10,000 GVWR options. The deluxe model is perfect for those looking to haul a heavier-weighted car or truck.
In short, assess your car or truck's length and weight in order to choose the best car trailer for your needs. Plus, don't forget that GVWR includes both your vehicle's weight and the curb weight you will experience on the road!
Do You Want to Transport Multiple Vehicles at Once?
If you currently have a need to haul more than one car or think you might need a way to transport multiple vehicles in the future, the most viable option is a double-deck car hauler. Within our range of double-deck car haulers are three different models. If you want to tow 2-4 cars, our 47-foot car trailer is ideal for your needs. This car trailer can accommodate up to 25,000 pounds of towing capacity which makes it able to handle a full-size SUV on the front top deck, a pickup or van on the rear lower deck, and two small to medium-sized cars in the middle.
For hauling needs up to 5 cars, our Mini 5 Car Hauler is perfect for the job at hand. It measures just 44 feet long which makes it easy to maneuver in tight corners on the road. Even though it has a GVWR of 25,000 pounds, it doesn't require a Class 8 truck to pull the load. So, if you need to haul multiple cars at once and want a trailer that is lightweight and easy to handle, our 5-Car Hauler is ideal. Plus, you can opt to add torsion axles that absorb shock and handle suspension travel.
If your hauling needs include full-size SUVs, pickup trucks, cars, or a variety of vehicles, our 53-foot double deck max 6-car trailer is equipped to handle up to 48,000 pounds of towing capacity. While this trailer does require a Class 8 truck to handle the heavy load, it can handle up to seven vehicles at once. While it can comfortably fit a total of six large-size vehicles such as SUVs, jeeps, and larger cars, this car trailer is specifically designed to allow four small cars on top for a total of seven vehicles. With its 10-inch aluminum ramps, a spare tire, a wireless remote control to operate the lift gate, and rubber-mounted LED lights, this 6-7 car trailer has outstanding value and durability.
What Type of Vehicle Will You Transport?
We've touched on the type of vehicles our Max 6 Hauler accommodates, but what about needs for other vehicles? For transporting cars or minivans, our wedge car trailers are the perfect trailer model. We have nine different models, each with a unique towing capacity, length, and features. Our introductory style is a 2-car wedge-style car trailer that can handle up to 12,000 pounds of towing capacity. This model is user-friendly, lightweight, and equipped with mesh runners which reduce weight and wind drag, making it ideal for those who need good loading traction in inclement weather. In addition, we offer multiple 3 and 4-car trailers.
Our premium style car trailer is 56 feet long, can haul four cars, and accommodates up to 18,000 pounds of towing capacity. This low-profile tandem dual wedge trailer is built to fit your truck's hitch height. This 4-car trailer is constructed with a lightweight, hi-tensile tubing frame and lightweight, ridged, mesh runners which reduce weight and wind drag while giving good loading traction in inclement weather. Flipouts on both the front and rear of the trailer extend the load area from 50 feet to 56 feet. With tandem dual axels, tying down your load is a breeze.
For transporting sports cars, our tilt car trailers are ideal. The dovetail design and hook-on loading ramps were specifically designed to address the problems encountered when loading low-clearance cars on trailers. Tilt car trailers are available with either wood or diamond flooring and can be customized with heavier frame construction to haul equipment as well as sports cars, making your journey to and from the track seamless.
Lastly, if you want to transport full-size, four-door pickup trucks, our heavy-duty gooseneck car trailer will be your best friend. Available in three styles, including a channel frame, a fabricated frame, and a conventional frame, gooseneck trailers are reliable, durable, and available with heavy-duty suspension in up to 43-foot models. The open steel runners or full diamond floor make for long-lasting and durable running gear. No matter the distance, gooseneck car trailers can handle long-distance hauls with a heavy load. For towing four large vehicles, look to gooseneck car trailers.
What Type of Towing Vehicle do You Have?
You've thought carefully about the specifications of the vehicles being towed. But what about the tow vehicle itself? When choosing your car trailer, you should keep in mind the type of tow vehicle you have or intend to acquire. It is important to choose a trailer that is compatible with your tow vehicle.
As a general rule of thumb, most full-size ½ ton pickup trucks are capable of pulling a one-car trailer. Most ¾ ton pickups can pull two cars. A 1 ½ ton truck is typically able to tow a full load on our five-car double-deck trailer. As mentioned above, the Max six-car trailer typically required a Class 8 or a tandem full-size road tractor.
Above all, selecting a trailer that fits your towing capacity ensures you and your load will make it to your destination safely.
Choose Kaufman Trailers for Your Car Trailer Needs
Whether you need to transport two cars at once and need the ability to pull the additional car behind you, or you are a towing company in need of a trailer with a large towing capacity, our range of car trailers are the perfect tool for the job. With a wide range of GVWRs, trailer bed footage, and diamond floor options, you can select from various models with the option to add custom features to most car trailers.
If you need help choosing the perfect car trailer, we are equipped with more than 30 years of experience and are happy to help you choose the right one. Call us today at 866-455-7444 and one of our sales reps will be happy to assist you.