How to Pick the Right Car Trailer for Your Needs
A car trailer is a big investment. A great tool for hauling vehicles, car trailers come in a vast range of sizes, models, and price ranges. 
Choosing the right car trailer for your needs can seem daunting at first with such a wide variety of options. However, with the right information, you will be equipped to make the best decision for your needs.  At Kaufman Trailers, we pride ourselves on our expertise in car trailers. We're sharing the questions you should consider when picking the right car trailer.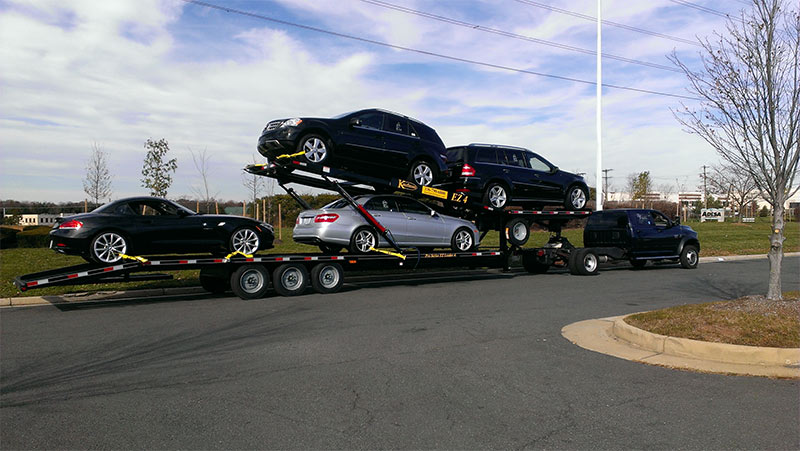 Questions To Ask Yourself Before Picking a Car Trailer
What Will The Trailer Be Used For?
This is the foremost question you should ask yourself as it will determine what size car trailer you choose. You don't want to pick a trailer that is either too large or too small.
It is important to be realistic in what you expect to use your car trailer for. Are you planning on transporting long distances? Will that require more operating costs? Make sure you factor in the usage of your car trailer before making your decision.
How Many Cars Do You Want To Haul At One Time?
This is a very important question to ask because it determines what kind of tow vehicle you will need, which is a critical choice that must be answered correctly. Car trailers are available in a variety of sizes and have the option to tow anywhere from 1 to 6 vehicles.
If you plan on hauling one car at a time, you should be looking for a single-car trailer. Similarly, if you intend to haul multiple cars at one time, you should look into our double deck car haulers. How long your runs are, the total operating cost and anticipated revenue are factors for you to consider. Additionally, safety, licensing requirements, maintenance costs, and your overall satisfaction with your hauling rig – including both the truck and the trailer are issues here.
What Kind of Vehicles Will You Transport?
Once you consider the number of vehicles you will be hauling, it is also imperative to consider what vehicles they will be. In order to be safely transported, different kinds of vehicles require certain car trailers.
For instance, if you intend to transport cars or minivans, you should be well suited for our wedge or double-decker trailers. For transporting sports cars, however, we recommended using full tilt car trailers. Full-sized four-door dually pickup trucks require a larger sized trailer such as the gooseneck. If you consider this information beforehand, you'll be saved from any hassle in the future. 
What Type Of Tow Vehicle Do You Have?
You've thought carefully about the specifications of the vehicles being towed. But what about the tow vehicle itself? When choosing your car trailer you also need to keep in mind the type of tow vehicle you have or intend to acquire. It is important to choose a trailer that is compatible with your tow vehicle.
As a rule of thumb, any full size ½ ton pickup produced today is capable of pulling a one-car trailer. Most ¾ ton pickups can pull two cars. Today's powerful 1-ton dually is very capable compared to trucks from even a decade ago. All of these are suitable for use with today's 1-ton diesel pickups. A five-car double deck trailer is available and is popular for today's 1 ½ ton trucks, which are available from RAM, Ford, and GM. The six-car, Max 6, is commonly pulled with a single or tandem full-size road tractor.
When you choose a trailer keeping your tow vehicle in mind, you are ensuring your vehicles are safely transported without any issue.
Find The Right Car Trailer Today!
At Kaufman Trailers, we can help you find the perfect car trailer that is suited to your needs. We have a wide range of trailers available in all sizes. Whether you need to transport 1 car or 6, we can help you find your match! Call us today at 866-455-7444.